T-Mobile will bring back a popular deal and reveal three secret offers next Tuesday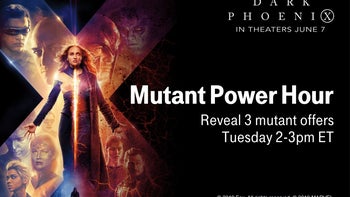 Summer is officially here, and T-Mobile is switching its focus on keeping subscribers entertained after already hooking them up with
the perfect 2-in-1 tool
for all those upcoming backyard parties. One of the most popular T-Mobile Tuesdays offer is
set to return
ahead of the premiere of "Dark Phoenix" next week, letting you score $4 tix to the epic conclusion of 20th Century Fox's main X-Men film series.
You'll obviously have to use the reward program's official app on Tuesday, June 4, to claim this sweet deal, then actually redeem the discounted movie ticket in a theater near you with the help of the Atom app by June 9. But T-Mo has even more gifts in store for comic book fans and general blockbuster film buffs, as three special "mutant" offers will be revealed and made available between 2 and 3pm ET next Tuesday.
Unfortunately, we have no idea exactly what's coming, but given the ultra-limited nature of these secret promotions, we expect them to be spectacular. The final Dark Phoenix-connected deal is a chance to win $1,000 in movie tickets from Atom (obviously starting with the superhero film scheduled to open on June 7). All you need to do is access the T-Mobile Tuesdays app on June 4, enter the latest raffle, and keep your fingers crossed.
Other recurrent freebies and discounts include a Nacho Cheese Doritos Locos Taco from Taco Bell (last chance to get one), a medium latte from Dunkin', $0.10 off per gallon of gas at Shell, and reserved tickets to select Live Nation concerts featuring Ariana Grande and "more." Whether or not T-Mobile will ultimately be allowed to
merge with Sprint
, it's certainly nice to be a "Magenta" customer right now.
Recommended Stories