Report says that the DOJ will approve the T-Mobile-Sprint deal with one crazy condition
18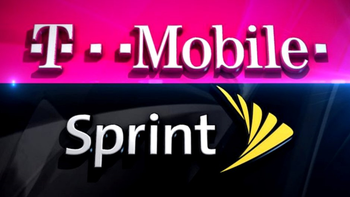 While the FCC is okay with the T-Mobile-Sprint merger, the Department of Justice (DOJ) is not. That's because both agencies have different responsibilities; the FCC is concerned with the technical aspects of the merger while the DOJ investigates the competitive nature of the transaction. And that is where there is apparently a problem. Reducing the number of major U.S. wireless providers by 25% doesn't appeal to the DOJ, which is
why the agency reportedly is against the merger
.
According to Bloomberg
, the Justice Department disagrees with those who say that a combined T-Mobile-Sprint would be a tougher competitor for the nation's two top wireless carriers, Verizon and AT&T. That argument doesn't seem to hold much water with DOJ antitrust chief Makan Delrahim, who will reportedly demand that both T-Mobile and Sprint help create a new carrier that would keep the number of major providers at four.
T-Mobile CEO John Legere and Sprint chairman Marcelo Claure were both seen outside the Justice Department's building in Washington D.C. yesterday after meeting last week with officials from the agency. Asking the two carriers to help setup a competitor might be a deal breaker as far as Legere and Claure are concerned. New Street Research analyst Blair Levin says that it isn't likely that T-Mobile would agree to such a condition, although the analyst says that there are cable firms, like Dish Network who are chomping at the bit to enter the industry.
When the $26.5 billion merger was first announced last April, both executives tried to sell the deal as a way to keep the U.S. ahead of the pack when it comes to the next generation of wireless connectivity, 5G. T-Mobile's low-band 600MHz spectrum meshes well with Sprint's 2.5GHz airwaves as the pair looks to become the first wireless firm in the U.S. to offer nationwide 5G service.