T-Mobile is giving away the perfect summer freebie to subscribers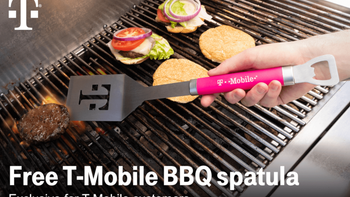 Next Tuesday,
T-Mobile is giving away
something to its subscribers that is just what everyone needs for the summer, a spatula. The perfect gift for those who like to barbeque, the cooking utensil has a magenta handle and the iconic "T" logo on the part used to flip a burger or some hot dogs on the grill. The top of the spatula can be used as a bottle opener. This is one of the giveaways and discounts offered by the carrier as part of its weekly T-Mobile Tuesdays program used to thank and reward the carrier's customers.
Before we get into the rest of the goodies and discounts that T-Mobile is disseminating this coming week, we need to mention that T-Mobile also has a new sweepstakes. Subscribers can enter the contest from the T-Mobile Tuesdays app starting at 5 am EDT this coming Tuesday, May 21st. Non-subscribers can enter at amoe.t-mobiletuesdays.com starting on Tuesday. One grand prize winner will receive a trip for two to Hawaii, three nights at a luxury hotel and a car rental for four days. The winner can choose between one of two adventures: 1) Jean Grey: a Mauna Kea Stargazing expedition (full day) with expert guide and picnic dinner plus a zipline adventure tour (2.5 hours) including ziplines, equipment and expert guide; or 2) Dark Phoenix: a helicopter flight (approx. 50 mins.) and after-dark volcano adventure with a three-course dining experience at the rim of a volcano. While the prize does not cover the costs of other attractions, meals or room service, the winner will receive a check for $2,140 that can be used for such items, or to pay the tax on the prize. The overall value of the grand prize is $7,135.
Besides the spatula, this Tuesday T-Mobile customers will receive the following this Tuesday:
$4 movie ticket to John Wick 3 or The Longshot from the Atom app.
Free Nacho Cheese Doritos Loco Taco (every week through June 10th) from Taco Bell.
Reserved tickets availability to see Ariana Grande from Live Nation.
10 cents off each gallon of Shell gas (up to 20 gallons).
$25 off a purchase from Shutterfly.
Free medium latte (every week through June 25th) from Dunkin'.
T-Mobile subscribers can redeem these offers from the T-Mobile Tuesdays app.