T-Mobile and Costco have an unbeatable trade-in deal for iPhone XS, XS Max, and XR buyers
0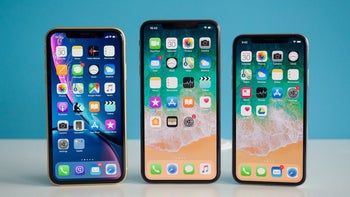 Apple's
"limited time" trade-in discounts
for iPhone XR, XS, and XS Max purchases are still available, but although they're pretty hefty by the company's own standards, you can unsurprisingly get much better deals of a similar nature from third-party retailers and major US carriers.
Costco and T-Mobile, for instance, are joining forces yet again on a limited time promotion with an unspecified expiration date that will let you shave up to a whopping $700 off the list prices of the three aforementioned iOS handsets. There are a number of requirements you need to meet, starting with the obligatory trade-in of an eligible device in fully working condition.
The maximum discount is obviously up for grabs for those willing to part ways with new high-end devices like the Samsung
Galaxy Note 9
, LG V40, G7, Google Pixel 3,
Pixel 3 XL
, and
OnePlus 6T
. But you can also discard an older iPhone X, 8, 8 Plus, 7, 7 Plus, Pixel 2, 2 XL, or a member of Samsung's Galaxy S9 or S8 families and you'll still receive $700 back on your iPhone XS, XS Max, or XR order.
Meanwhile, trading in an even older and/or lower-end handset like the iPhone 6s, 6s Plus, 6, 6 Plus, LG V20, G6, V30, V30+, Google Pixel, Pixel XL,
OnePlus 6
, Samsung Galaxy Note 5, Galaxy S6 series, or S7 series will get you a cool $550 on a virtual prepaid MasterCard. Yup, that's 550 bucks for an ancient iPhone 6 or an LG G6 you can buy for peanuts right now on eBay.
When it comes to strings, there are quite a few attached to this deal. For starters, you have to activate at least two lines of T-Mobile service if you're a new customer or one new voice line if you're already subscribed to "Magenta." You also need to purchase the iPhone XS, XS Max, or XR at full retail price from a physical Costco Warehouse location, attach your trade-in device to the new device order, submit a rebate claim using the promo code "COSTCOAPPLEJUNE2019"
on this special webpage
, and wait 6 to 8 weeks to receive your virtual card you can then use anywhere Mastercard debit cards are accepted.