College students get a discount on the unlocked Samsung Galaxy S9/S9+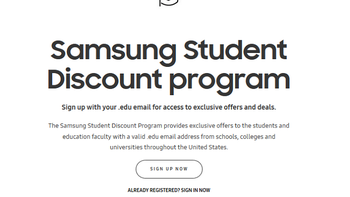 Thanks to Samsung's Student Discount Program, being a college student can save you some money on the purchase of an unlocked
Samsung Galaxy S9
or
Samsung Galaxy S9+
. Sign up with a valid .edu email account to join the program. After getting validated, you can use the student email account to log into Samsung.com for special promotions. For example, students can get $63 off the Galaxy S9/S9+, taking the prices of the unlocked handsets down to $665.99 and $776.99, respectively.
If you are taking advantage of Samsung's deal that takes up to $350 off the price of the new flagship phones with a trade (a minimum of $50 is discounted for a trade-in consisting of any working phone with an intact screen), and you're a student with a verified email address, you can combine both offers and save a ton of cash on the purchase of one of Sammy's 2018 flagship smartphones. If you need to make monthly payments, Samsung Financing will take care of that too.
Are you a student, teacher or educator set on owning a
Galaxy S9
or
Galaxy S9+
? Simply click on the sourcelink below to start the ball rolling with your application to join Samsung's Student Discount Program. The money you save will be your own.
source:
Samsung