OnePlus touts major US market achievement mere months after partnering with T-Mobile
4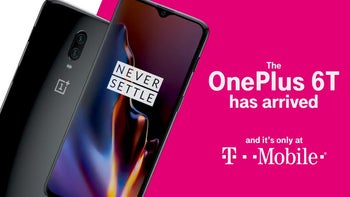 While OnePlus never shares the specific sales numbers of its popular smartphones, the company often loves to boast about impressive but vague achievements like the progress of its
most recent model compared to a predecessor
. The brand is one of the world's few that continues to claim growth at a time of
general industry stagnation
, relying on a unique product release strategy and unconventional marketing.
In other words, the OnePlus 6T sold so well stateside between October and December that its manufacturer finished the quarter in the top five as far as brands selling phones for $500 and up are concerned. That's definitely no small feat for a company founded just a little over five years ago that had zero retail presence in the US
until this past November
. By the way,
the 6.4-incher
didn't enjoy a full quarter of availability, following in the footsteps of a similarly well-reviewed
OnePlus 6
that no local wireless service provider carried and aggressively promoted as T-Mobile did with the 6T.
At the same time, the actual high-end US market share of this fast-rising brand remains unknown. We also don't know the names of the four other top vendors, although we can safely assume Apple and Samsung hold a massive advantage over the likes of LG and...
Google, maybe
? Bottom line, while OnePlus is certainly rising through the ranks, its fans may want to contain their excitement. There's a long way to go from top five to top two or even top three.
OnePlus Finishes Q4 2018 as a Top 5 Smartphone Company in the US in the High-End Segment
Leading Analyst Firm confirms that OnePlus is among the top 5 companies in the $500-plus category of the US smartphone market
New York, Feb 12, 2019: OnePlus, a global leader in flagship devices, has emerged as one of the top 5 smartphone brands in the greater than $500 segment in the US in Q4 2018. According to IDC, OnePlus was able to ship enough volume in 4Q18 to grab a top 5 position in terms of market share over $500 dollars in the US.1
"It's been over five years since we launched our first phone in the US, initially as an online-only offering," said OnePlus CEO, Pete Lau. "We're proud of how far we've come and even more excited about the future ahead."
OnePlus' success in the US follows the news of OnePlus being the best-selling premium brand in India in 2018, according to Counterpoint Research. Additionally, according to Counterpoint's recently released Q4 2018 report, the company has also captured 36% of India's premium smartphone market, retaining its number 1 position for three quarters consecutively.
The OnePlus 6T is currently available at OnePlus.com and T-Mobile.
Recommended Stories