OnePlus celebrates latest India achievements by mocking Apple on Twitter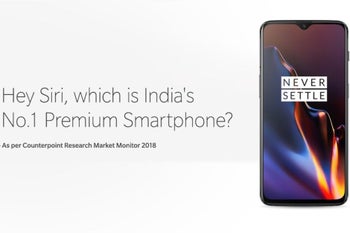 When it comes to
global smartphone shipments
, OnePlus isn't exactly a force to be reckoned with. How could it be with only two handset models released every year, a modest presence in the offline retail channel, and five years of steady but slow manufacturing progress?
The brand was also pretty much nonexistent in the US market
until recently
, instead relying on India for a large chunk of its inexpensive flagship device sales. Believe it or not, OnePlus has been the most successful smartphone company in the country's premium segment for the past three quarters, narrowly beating Samsung and totally crushing Apple,
according to Counterpoint Research
.
OnePlus India couldn't let the achievement go unnoticed and uncelebrated,
"daring" iPhone users on Twitter
to ask Siri "which is India's No.1 premium smartphone." The answer may not be as simple as you expect, but it's definitely not the
iPhone XS
or
iPhone XR
.

Overall, Samsung was still ranked number one in the India premium market for the entire past year, with a 34 percent slice of total shipments, compared to 33 percent for OnePlus and a relatively modest 23 percent Apple share.
Meanwhile, OnePlus was at the top of the 2018 ranks in "sell through", or how many smartphone units were actually sold by retailers to end users. The company also won both gold and silver as far as the year's best-selling premium models are concerned, with the
OnePlus 6
ranked first, followed by the
OnePlus 6T
, and Samsung's
Galaxy S9+
in third place.
Until Apple starts
regionally producing higher-end iPhones
, allowing the company to drop their prices and better compete against the likes of OnePlus, "iFans" will have to put up with this type of mockery.
Then again, the "iDare you" tweet is certainly not
the most vicious parody
Apple and iPhone users have had to endure over the years.