JBL has one of the best Moto Mods on sale at an incredible 75 percent discount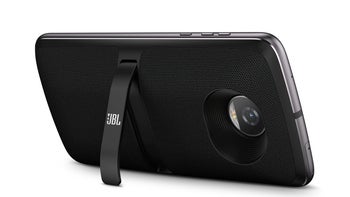 Apart from a
5G-enabling accessory
for the
Moto Z4
,
Z3
, and
Z2 Force on Verizon
, Motorola hasn't released a new Moto Mod in quite some time, instead trying everything in its power to move existing inventory of products like the
Alexa-supporting Smart Speaker attachment
,
Power Pack
, GamePad, or 360 Camera Mod.
But if you already own a Moto Z-series handset and are not interested in buying a new one, regardless of how many killer bundle deals the device manufacturer throws at you, an individual discount on the JBL Soundboost 2 might be able to capture your attention and convince you to spend the large sum of $19.95.
That's a whopping 60 bucks lower than the regular price of this neat audio-enhancing accessory for your Moto Z, Z2, Z3, or Z4 phone, which roughly equates to a 75 percent discount. That beats every single
previous Soundboost
and
Soundboost 2 deal
, but you may need to hurry if you're thinking about pulling the trigger here. While JBL doesn't explicitly mention an expiration date for this amazing new special offer on its official website, the Soundboost 2 is no longer available from the likes of Best Buy and B&H Photo Video, which probably means there aren't a lot of units left in stock at its maker either.
Motorola's US e-store also has the ultra-affordable Moto Mod listed as out of stock, even at its normal $79.99 price. The only other reliable place you can purchase the JBL Soundboost 2 at the time of this writing appears to be Amazon, but if you choose that path, you'll have to cough up around 45 bucks.
At 20 bucks, you're looking at an absolute bargain if you're not entirely pleased with the audio muscle of your new or old Moto Z-series phone. Capable of seamlessly snapping on to the back of your modular mobile device, the Soundboost 2 can, well, boost your sound with a total of 6 watts of extra power. And don't worry, the Moto Mod comes with its own built-in battery, which means it's not going to drain your phone at the next pool party.