Moto Z2 Force gets 5G Moto Mod support with reverse charging
1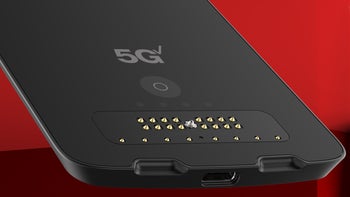 Back in April, the Moto Z3 became the world's first commercially available smartphone with 5G capabilities, though with a big asterisk, because you needed the 5G Moto Mod (sold separately through Verizon) that snaps onto the back of the phone and provides said capabilities. Since then, the 5G Moto Mod was also made compatible with the Moto Z4, and this week, it is finally coming to the Moto Z2 Force as well.
New software updates that address both battery life and download speeds have been rolled out on the Moto Z2 Force and Moto Z3, with all the improvements also making it into the 5G Moto Mod itself as well. The Moto Z4 comes with the optimizations pre-installed.
Motorola says it has updated the
"powering system on the 5G Moto Mod and Moto Z phones to allow one device to power the other"
. In other words, if the 5G Moto Mod battery is running low, it'll be able to get a charge from the phone and vice versa. When phone's battery is below 15%, the 5G Moto Mod will give it a boost until it reaches 20%, or until the 5G Moto Mod battery drops to 14%. When the Mod's battery dips under 13%, the phone will charge it until it hits 14%, or until the phone dips below 15%. If both batteries are above those limits, then the batteries will power their respective devices only.
Of course, if you want to enjoy blazing 5G speeds on your Moto Z2 Force, you'll also need to be at a location with the needed infrastructure. Verizon's 5G network is currently live in nine cities in the US, though Big Red says that the number is expected to grow past 30 by the end of this year. For more on 5G coverage in the US, check out
this article
.
Recommended Stories