Garmin unveils a bunch of new smartwatches, including one with an AMOLED screen
0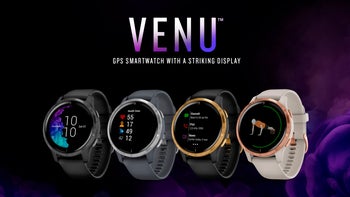 Just because
Garmin unveiled a new collection of "multisport GPS watches"
starting at a whopping $600 last week, that doesn't mean the company has gone empty-handed to the IFA 2019 trade fair in Berlin. Incredibly enough, an additional five smartwatches have been officially announced, including two new Vivoactive variants, Garmin's first-ever wearable device with a high-quality AMOLED display, and a pair of special Marvel-themed editions for hardcore fans of Captain Marvel and Captain America.
Garmin Venu - a premium mainstream smartwatch with a premium price tag
At $399.99, the stylish Venu is significantly cheaper than the entry-level Fenix 6 model, which means its target audience is composed of casual tech and fitness enthusiasts rather than professional athletes or outdoor warriors. But the
Apple Watch Series 4
also costs $399 and up, so the new guy needs a pretty impressive list of "mainstream" features to challenge the industry leader.
While there's no built-in ECG sensor or standalone cellular connectivity, the Garmin Venu unsurprisingly comes with its own GPS chip, as well as the "broadest range of 24/7 health monitoring features available in the market." That's a bold statement, but the company expects to deliver with Elevate wrist-based heart rate technology, advanced sleep tracking (which
Apple doesn't support yet
), menstrual cycle tracking, and a host of useful new tools including respiration and hydration monitoring.
Of course, the Venu is much more than a
fitness tracker
, sporting a "vibrant" 1.2-inch AMOLED screen in a first for Garmin while promising up to 5 days of battery life in "smartwatch mode" and up to 6 hours in "GPS + music mode." By the way, the elegant Android and iOS-compatible smartwatch can also store your favorite tracks from platforms like Spotify, Amazon Music, and Deezer, as well as make payments directly from the wrist. A commercial release is planned for sometime later this month.
Garmin Vivoactive 4 and 4S - all of the essentials and even longer battery life
The sequels to the popular
Vivoactive 3
and
Vivoactive 3 Music
sure look familiar, with frugal always-on screens upgrading the already impressive endurance numbers of the Garmin Venu to 7 days on the 40mm Vivoactive 4S and up to an insane 8 days as far as the "regular" 45mm Vivoactive 4 is concerned.
Apart from the less vibrant displays, it doesn't look like you'll be giving up much if you choose one of the refreshed Vivoactives over the all-new Venu. That's because you get essentially everything you need here as well, from GPS functionality to music storage, heart rate monitoring, sleep tracking, and even Garmin Pay support. The company is awfully vague about pricing info, revealing the MSRP is $349.99... for one of these two. We're guessing the Vivoactive 4S, which could make the Vivoactive 4 rather prohibitive at 400 bucks or so. We should find everything out soon, as availability is set to begin "in September."
Garmin Legacy Hero Series - special designs, engraved slogans, reasonable prices
Although the company doesn't spell it out for us, the Captain Marvel Special Edition and First Avenger Special Edition smartwatches look an awful lot like a rebranded Vivoactive 4 and 4S respectively. In addition to exclusive character-themed watch faces, the two
Legacy
Hero devices come with sleek leather bands and premium stainless steel bezels paying homage to Captain Marvel's photon powers and Captain America's vibranium shield.
The Captain Marvel Special Edition Smartwatch features the Kree insignia printed on the lens and the words "higher, further, faster" engraved on the back. Meanwhile, the First Avenger Special Edition Smartwatch honors Captain America's signature cockiness with the famous line "I can do this all day" etched on its rear cover. Interestingly, the two Marvel-themed wearables share a recommended price of $399.99 even though the First Avenger model is larger and boasts superior battery life. Both comic book-inspired gadgets are due out in October.