Apple consolidates global smartwatch domination, Samsung rises to beat Fitbit for second place
12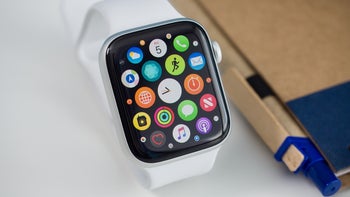 It took quite a while for smartwatches to find their groove and prove they can be practical on their own, not needing a connected smartphone all the time to perform even the most basic tasks, but nowadays, the wearable device market is putting
the stagnant mobile industry
to shame with a remarkable growth pace.
According to the latest Strategy Analytics report
, global smartwatch shipments jumped a staggering 44 percent during the year's second quarter, from only 8.6 million to 12.3 million units. Believe it or not, Apple accounted for almost half of that total, selling no less than 5.7 million copies of its
life-saving wearable
between April and June 2019, up from 3.8 million back in Q2 2018.
Despite a large number of competitors overcrowding the market, Apple's share surged from 44.4 to 46.4 percent year-on-year, and analysts believe this crushing domination will continue for
at least a few more years
. Just like in
the tablet
and smartphone markets, Samsung is proving to be the main challenger to the throne, with the early 2019 release of the fitness-centric
Galaxy Watch Active
helping the company considerably boost its numbers as well.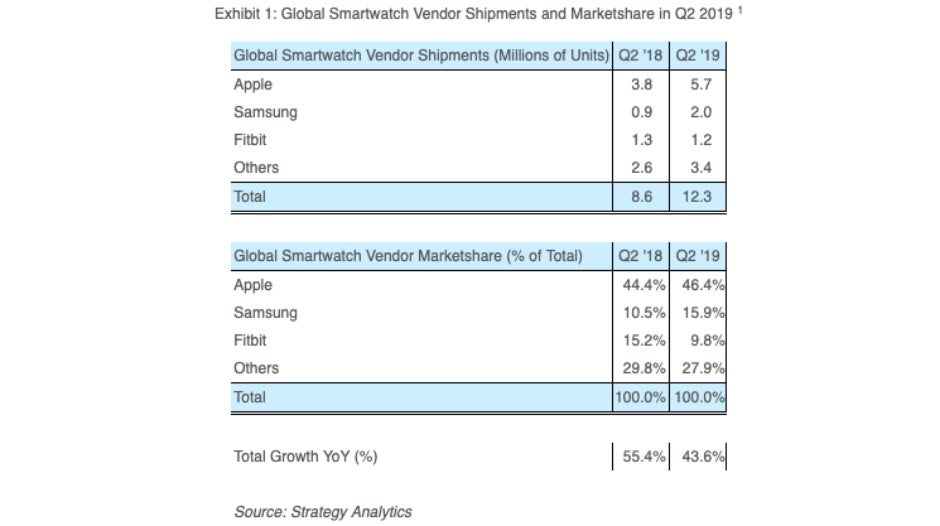 We're talking a year-on-year progress of over 5 percentage points in market share (from a 10.5 to a 15.9 percent slice of the pie) and more than double the 0.9 million unit shipment figures posted during the second quarter of 2018 (two whole million now). Strategy Analytics expects the freshly unveiled
Galaxy Watch Active 2
to solidify Samsung's global position, especially as Fitbit continues to struggle.
The activity tracker specialist saw its smartwatch sales dip from 1.3 to 1.2 million units, equating to under 10 percent share, compared to a whopping 15.2 percent back in Q2 2018. Apparently, the low-cost
Fitbit Versa Lite
was not affordable enough (or perhaps not special enough), while the "regular"
Versa
started getting a bit long in the tooth. Fortunately for Fitbit, a
second-gen Versa
seems to be right around the corner, but the fitness-first brand will have to resist growing competition from the likes of
Fossil
and
Garmin
to maintain its place on the podium.
Recommended Stories