This typically pricey Casio smartwatch is on sale at 50 percent off in limited numbers (brand new)
3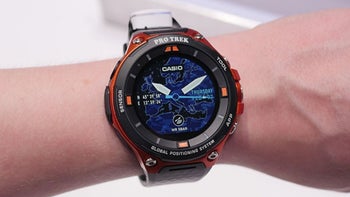 Although Casio is
one of Google's oldest smartwatch-making partners
, the Japanese company never tried to compete against the likes of Apple, Samsung, Huawei, or Fitbit in terms of the mainstream appeal of its Android and iOS-compatible wearable devices.
Instead, the
Pro Trek Smart line
continues to have a very specific target audience, catering to outdoor enthusiasts that need their gadgets and accessories to survive the wilderness and take an occasional beating if necessary. Unfortunately, that also means Casio's Wear OS products tend to be significantly costlier than
the world's most popular smartwatches
, but if you don't have a problem buying an older model, you can get one at a massive 50 percent discount right now.
Typically priced at a whopping $500, the
Casio Pro Trek Smart WSD-F20
is up for grabs on eBay at only $249.99 in a "limited quantity" at the time of this writing. You're not just looking at brand-new, unused, unopened, and undamaged items sold in their original packaging here, mind you, but also devices accompanied by standard manufacturer's warranties, which is not something you see every day on eBay. That's because Casio itself is selling these bad boys at 50 percent off their list price, presumably to clear leftover inventory from the company's official website, where the WSD-F20 is no longer available.
Guaranteed to withstand water dunks up to 50 meters, as well as hard drops, strong vibrations, extreme temperatures, and other unfriendly outdoor conditions, the deeply discounted smartwatch comes with an extra-large, extra-robust 57mm case coated in orange, as well as a sharp 1.32-inch LCD panel with 320 x 300 pixel resolution, built-in GPS technology, and stellar battery life.
In case you're wondering, yes, major third-party retailers like Best Buy are still charging the full 500 bucks for the Casio WSD-F20, which makes this warranty-including eBay deal pretty much irresistible for the target audience of one of the world's toughest smartwatches.