Casio unveils rugged Android Wear smartwatch with dual-layer display
18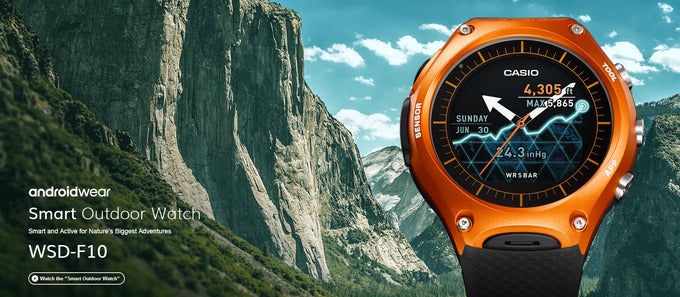 This is the Casio Smart Outdoor Watch, model WSD-F10. It is big, it is tough, it is smart, and it is... strangely appealing with its rugged, manly design. It is also a pricey piece of tech goodness when compared to its Android Wear counterparts, but we'll focus on the exact figures later, as we feel like what this puppy stands out with is more important.
First and foremost, this isn't a smartwatch you'd wear to a fancy dinner. The Casio Smart Outdoor Watch is built for adventurers – the kind of people who love spending time in harmony with the great outdoors. And when we say that it is tough, we mean it. The wearable is water-resistant at depths up to 50 meters and compliant with MIL-STD-810G military standard endurance tests. At the same time, a microphone is built in alongside a pressure sensor, an accelerometer, and a compass.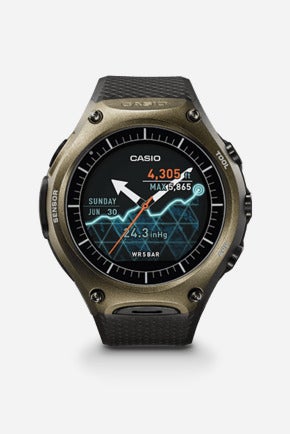 Probably the toughest Android Wear watch made so far
The 1.32-inch display has a resolution of 320 x 300 pixels with a noticeable "flat tire" design at the bottom. If our intuition is to be trusted, that's where sensors and/or display circuitry might have be placed, as that's the case with the Moto 360 smartwatch. We could be wrong, of course. In any case, we're willing to forgive Casio this visual imperfection as the WSD-F10's display has one really awesome trick up its sleeve. Over the primary, color display is layered a secondary, monochrome LCD one, which is there to extend the wearable's battery life. Theoretically, the Casio Smart Outdoor Watch can last a month on one charge if only the monochrome LCD is used, but that means you'll be seeing the time only. If used as a standard Android Wear smartwatch, the wearable should last you at least a day per charge,
On the software side of things, we have Android Wear running the show, meaning that the Casio Smart Outdoor Watch is meant to be paired with an Android device. Sure, you may use it with an iPhone running iOS 8.2 or higher, but you won't be getting the full package. At its core, the user experience should come close to that of using any other Android Wear device – you have access to apps, notifications, and Google Now straight from your wrist. But Casio has built in its own goodies as well. Additional watch faces provide at-a-glance data collected by the wearable's sensors, such as altitude, air pressure, compass directions, your own activity, and much more.
But as we mentioned above, Casio's first smartwatch is an expensive one. It is expected to cost around $500 when it is out, which makes it pricier than most other Android Wear smartwatches. It is also more expensive than a Samsung Gear S2 or an entry-level Apple Watch. But then again, few other smartwatches can withstand the kind of abuse the WSD-F10 is designed to endure.