Get the unlocked Moto G6 for just $191 right now with a free second phone included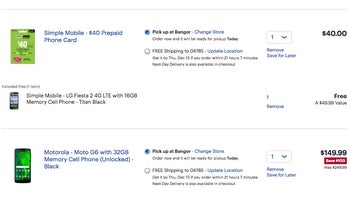 One of the
best budget-friendly Android smartphones of 2018
is on special sale yet again, and this time around, you don't have to
commit to Verizon right off the bat
to score some pretty
massive savings
.
Normally, you'd be charged close to 300 bucks for all that stuff, but if you remember to add it in the same cart, you can save a full Benjamin all in all. Your heavily discounted total will be $190.99, which is cheaper than the
Moto G6 alone over at Motorola.com
.

Apart from that very respectable 5.7-inch handset, your 191 bucks will also buy you a big battery-packing LG Fiesta 2 that normally costs $49.99. As you can imagine, the rest of the specifications are not great, but a hefty 4,500 mAh cell certainly makes the Fiesta 2 an interesting freebie.
In case you're wondering,
Simple Mobile
is a slightly lesser-known T-Mobile MVNO (mobile virtual network operator) that advertises some incredibly affordable and impressively diverse service plans.

Keep in mind that you're free to activate the Moto G6 wherever you choose, be it AT&T, T-Mobile, Verizon, or Sprint. The cheaper-than-ever device sports a trendy 2:1 screen with relatively thin bezels, a front-mounted fingerprint scanner, decent Snapdragon 450 processor, 3GB RAM, 32GB internal storage space, and yes, dual rear-facing cameras.