Simple Mobile introduces unlimited 4G for $50 per month, no strings attached
17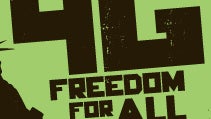 Unlimited 4G data does not need to carry an astronomical price tag. Quite the opposite – the new $50 monthly plan by Simple Mobile seems like a pretty good deal considering that a long-term commitment is not required. For half a Benjamin you get unlimited nationwide minutes, unlimited domestic and global texting, and most importantly, unlimited data that can theoretically fly at up to 42Mbps. And before you ask, no, you won't get throttled, unless you, ahem, "abuse" the carrier's network.
For those not familiar, Simple Mobile is a MVNO that uses T-Mobile's HSPA+ network to deliver 4G goodness to its customers. The thing is that it doesn't offer phones directly. Instead, customers are redirected to a retailer offering unlocked handsets that are known to be fully compatible with Simple Mobile's service. Of course, you are free to bring your own unlocked handset, if you prefer.
Those of you who are interested can follow the source link below and check out what Simple Mobile has to offer.
Simple Mobile now offers unlimited plan with 4G data for $50 per month
Recommended Stories