Barnes & Noble goes after Amazon's priciest Kindle with a larger and cheaper new Nook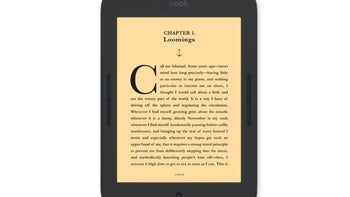 While e-book readers are not the most glamorous or sophisticated class of consumer tech devices, one has to assume they're still pretty popular (and profitable) given two large US companies remain engaged in and committed to this market.
Right off the bat, the device with B&N's biggest ever E-Ink screen holds a significant advantage over the Kindle Oasis, fetching $199.99. Notably, that's 70 bucks higher than the typical retail value of a Nook GlowLight 3 e-reader, as well as a whopping 150 and 70 bucks higher than
the list prices of the 7
and
10.1-inch Nook Tablet
respectively.
The freshly unveiled Barnes & Noble GlowLight Plus has a larger 7.8-inch display in tow than the 7-inch Kindle Oasis, while providing the same 8 gigs of internal storage space and somewhat generic "weeks on a single charge" battery life promise. The GlowLight Plus is also waterproof (just like the Kindle Oasis
and
the $130 6-inch
Kindle Paperwhite
), with a "soft-touch finish" design that's not too different from the cheaper GlowLight 3.
The latest addition to the Nook family wraps up its robust list of features with glowlight technology (hence the name), which essentially consists of adjustable settings guaranteeing the perfect reading experience both during the day and late at night. US availability kicks off in physical stores only on Monday, May 27, followed by online sales from Wednesday, May 29.