Amazon's 'all-new' Kindle Paperwhite is waterproof, razor-thin, lightweight, and low-cost
2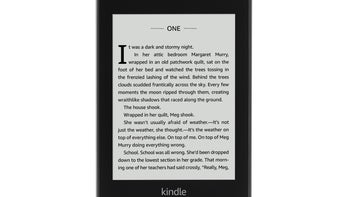 This may seem odd, but while tablets have effectively halted their progress of late, with most manufacturers focused on affordability rather than build quality or device performance, e-readers are still getting better year after year.
Amazon is without a doubt the global leader of this small yet presumably lucrative market, selling the latest
Kindle Oasis
generation for a whopping $250 and up, whereas an entry-level "standard" Kindle variant costs as little as $80.
With the mid-range
Kindle Voyage
out of the picture for a couple of months now, it's certainly not surprising to see an "all-new" Kindle Paperwhite released at a $130 starting price. Obviously, this looks a lot like its 2015-unveiled predecessor, but the "sleek, flush-front design" is thinner and lighter than ever.

We're talking a wasp 8.18 mm waist and a 182-gram weight, which is apparently more than twice as light as "many paperback books." The design of the 2018 Amazon Kindle Paperwhite is improved in one more essential way, adding IPX8 certification for full protection against immersion in up to two meters of fresh water for as long as 60 minutes.

That makes this very reasonably-priced e-book reader capable of surviving accidental drops in the bathtub, hot tub, pool, and even ocean, so you can take your hobby with you wherever you want.

Speaking of taking stuff with you wherever, whenever, the all-new Kindle Paperwhite doubles down on its forerunner's internal storage, letting you hoard thousands and thousands of digital books with 8 gigs of space in an entry-level configuration.

In addition to Bluetooth-enabled Audible support, the device also comes with six free months of Kindle Unlimited for a "limited time." Everything you loved about the previous Kindle Paperwhite generation is obviously still here, including a glare-free 6-inch screen with 300 ppi resolution, a built-in adjustable light for perfect readability in all conditions and environments, and a battery life "measured in weeks."

Up for pre-order today, the upgraded Kindle Paperwhite will start shipping November 7, including in a $160 32GB variant and a $250 32 gig model with free cellular connectivity.