Barnes & Noble goes after Amazon's cheapest Fire slate with a refreshed $50 Nook Tablet 7
4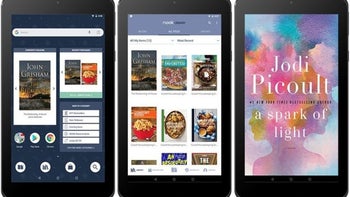 Even though bookselling giant Barnes & Noble has had to take a number of drastic measures in recent years to grapple with the decline of its main business, laying off employees and exploring the possibility of a sale, some of you might be surprised to find out Nook tablets and e-readers are still a thing.
At a measly $49.99, you're obviously not getting anything fancy, but compared with
Amazon's $49.99 and up Fire 7
, the 2018 edition of the entry-level Nook Tablet does at least offer a generous 16 gigs of internal storage space.

That's double the local digital hoarding room of the most affordable Fire slate out there, while both 7-inchers also support microSD card expansion. The two share an understandably modest display pixel count of 1024 x 600 as well, with the refreshed Nook Tablet 7 claiming a slightly weaker battery life of "up to 7 hours of reading, watching videos and web browsing."

That's despite the fact the 9.9 mm thickness of the new guy is actually higher than the same measurement of the 2017-released Fire 7, although for what it's worth, the Nook Tablet 7 is both shorter and narrower, which should make it slightly more compact.

Key details like the processor and RAM count are unspecified, which is never a good sign, while the 2MP rear and VGA front-facing cameras are most likely as mediocre as you expect.

Of course, Barnes & Noble is advertising its proprietary online bookstore, virtual library, and Browsery apps as key selling points, along with full Google Play Store access. While the Kindle Store is hugely successful, the fact many popular Android apps and games are still not available on Amazon's Fire tablet lineup could definitely work to B&N's advantage. But will it be enough?