AT&T's controversial 5G E network is actually the fastest in the US, new report claims
1
AT&T has repeatedly
come under fire
lately for its
5G Evolution
(aka 5G E) network rollout, which industry rivals have been describing in pretty harsh terms, ranging from
marketing hype
to
blatant deception
. Sprint has even
gone so far as to file suit
against the nation's second-largest wireless service provider to try to prevent AT&T from using the infamous 5G E logo going forward to essentially tout 4G LTE Advanced connectivity, which all major carriers are in fact already offering.
But although a
recent Opensignal report
appeared to support the argument that AT&T's 5G E network is nothing special, actually falling short of the 4G LTE download speeds provided by the competition,
fresh test results released by Ookla
are painting an entirely different picture for today's cellular service landscape. According to the company behind the insanely popular Speedtest app, AT&T has the "fastest wireless network in the nation."
That's based on research conducted during the year's first calendar quarter, when AT&T averaged download rates of between 34.3 and 40.7Mbps in weekly measurements performed nationwide. Interestingly, both T-Mobile and Verizon's average download speeds were significantly steadier, constantly circling the 35 and 33Mbps marks respectively. Big Red ultimately came in last among the "big four" carriers, as Sprint jumped from 30.8 to 34.9Mbps average speeds in the January - March 2019 timeframe.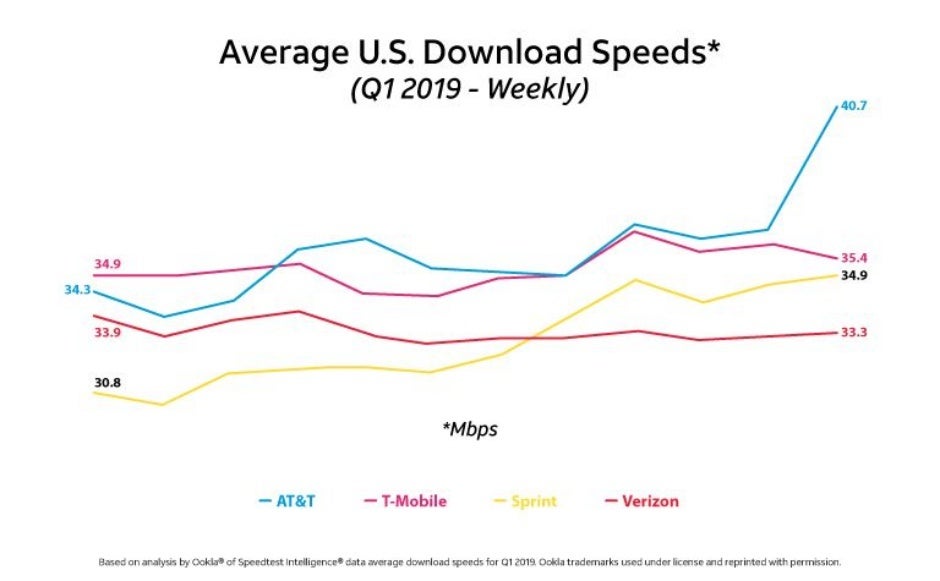 Unsurprisingly, AT&T specifically highlights its 5G Evolution expansion from only 25 markets at the end of 2017 to nationwide availability a year later as the main reason for the network's major progress in Ookla's rankings. In fact, AT&T reminds us the company's previous reports listed T-Mobile and Verizon as the average speed leaders, whose numbers however have "plateaued" this past quarter.
All in all, it might actually be more important for everyday mobile subscribers to point out that the industry as a whole has made great strides over the last 12 months or so. T-Mobile, which was Ookla's Q1 2018 gold medalist, produced average download speeds of around 32Mbps back then, followed by Verizon with 29.7, AT&T with 25.8, and Sprint with 23.8Mbps respectively. All those numbers are now up, which is awesome news for everyone. And on the eve of the
"true" 5G revolution
, no less.