T-Mobile tweet jabs at AT&T for its 5G marketing trickery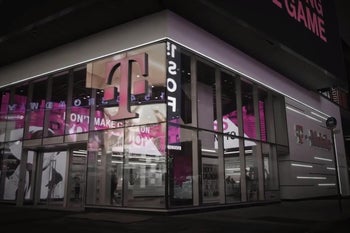 We're just a week into 2019 but you might already be tired of hearing about 5G. There's no consolation we can offer, however, there will only be more of it in the upcoming months and years. Right now, the focus is which carrier will get 5G to its customers the fastest and some seem to be bending the rules a little.
A few days ago AT&T decided that there's no reason to wait for actual 5G phones to come out when it can just
change the connectivity icon on smartphones
to one that has 5G in it. And while the company did explain its reasoning behind it, we can agree that it was misleading at best, after all, not everyone is aware 5G requires special hardware that the phones they use don't have. Plus, the improved speeds aren't unheard of or "next-gen" in any way.
T-Mobile took notice of what AT&T did and decided to respond in its usual unordinary manner. The official Twitter account of the "un-carrier" posted a video of someone putting a sticker with a handwritten "9G" on top of the LTE icon on their iPhone, adding the caption "didn't realize it was this easy, brb updating".
didn't realize it was this easy, brb updating pic.twitter.com/dCmnd6lspH

— T-Mobile (@TMobile) January 7, 2019
As far as cross-company banter goes, we have to admit this is a solid 9/10 hit coming from T-Mobile. It's unlikely that AT&T will roll back the logo change, but at least we got a few chuckles out of it. As we've
mentioned before
, the first real 5G smartphone customers of US carriers will get to use will most likely be the 5G version of Samsung's
Galaxy S10
, coming out in a couple of months.
And if you like us were wondering when can we theoretically expect this mystical 9G, with the current pace of introducing next generations that should be somewhere around 2051. So… high-speed brain implants maybe?