One new Apple HomePod feature is coming this month, while others still need to wait
3
Apple had
three new iPhones
, a
refreshed iPad
, and an
upgraded Watch
to showcase at its big Cupertino event earlier this week, but one product that wasn't even mentioned in passing during a keynote that ran for nearly two hours is the company's first (and still only) smart speaker. Unveiled in 2017 and commercially released at the beginning of 2018, the
HomePod
has pretty much been left in limbo of late from both a hardware upgrade and software update standpoint.
With no news or rumors of a sequel or spin-off on the horizon, hardcore Apple fans had hoped to at least get an ETA for a few long overdue features
promised all the way back in June
. Unfortunately, the company continues to keep things as vague as always, updating the
HomePod's official product webpage
with descriptions of the multi-user support and handoff functionality, which are still due to come at some point "later this fall."
You probably shouldn't expect them to roll out in the next month or so, as radio streaming is apparently ready to go live on September 30. That means you'll be able to tune in to a whopping 100,000 live, local, and global radio stations starting in a couple of weeks just by asking Siri.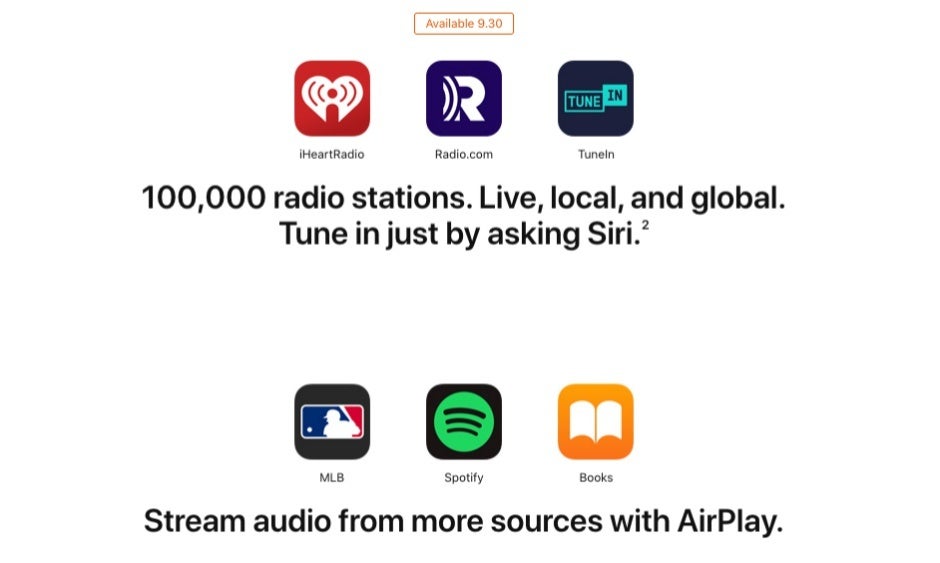 Interestingly, there's also an all-new feature planned for a
HomePod
debut "later this fall", which will allow you to relax by playing soothing pre-loaded "Ambient Sounds" like ocean waves, forest birds, rainstorms, and "more." Meanwhile, in case you're not familiar with the multi-user functionality Apple's competition has pretty much always offered, that's going to enable a "personalized experience" for "each person in the family"... eventually. In other words, different HomePod users will be able to keep their personal music preferences, messages, reminders, lists, and calendars separate.
Finally, with the handoff feature, the Siri-powered smart speaker will seamlessly take calls, songs, and podcasts over from your iPhone or iPad simply by holding the two devices close to one another.