Apple announces iPhone 11, iPhone 11 Pro and 11 Pro Max
84
Price:

The iPhone 11's price will now start at $699, while the iPhone 11 Pro and Pro Max will once again begin at $999 and $1099, respectively.
Release date:

Pre-orders for all three new iPhones will be opened this Friday, September 13, while the official iPhone 11 series release date is set for September 20.
iPhone 11
The new iPhone for the masses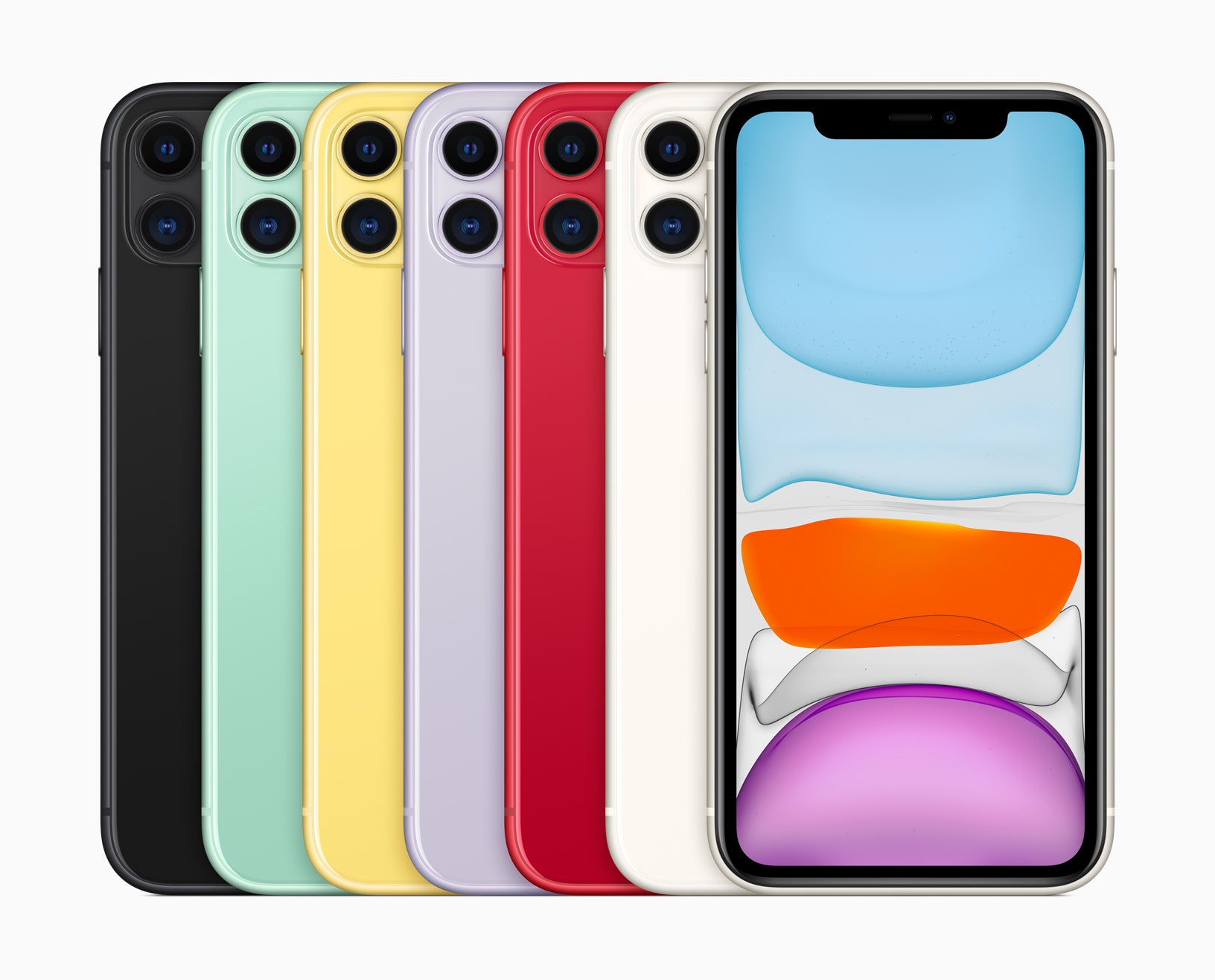 iPhone 11
The iPhone 11 is the direct successor to last year's iPhone XR. This is the new iPhone for the masses. It features the same glass-on-metal design as the XR, but this time comes in the following colors: black, white, red, yellow, green and purple. There are no longer blue and coral color options. The green and purple newcomers actually look pretty sweet – they have a mature and somewhat muted tone that make them a suitable choice for a wider audience.

Apple's Liquid Retina LCD display is making a return for the iPhone 11, literally. Everything in the screen department remains the same: the diagonal is again the sizable 6.1 inches and the resolution is still 828 x 1792 pixels, making for the reasonable but not impressive 326 ppi pixel density.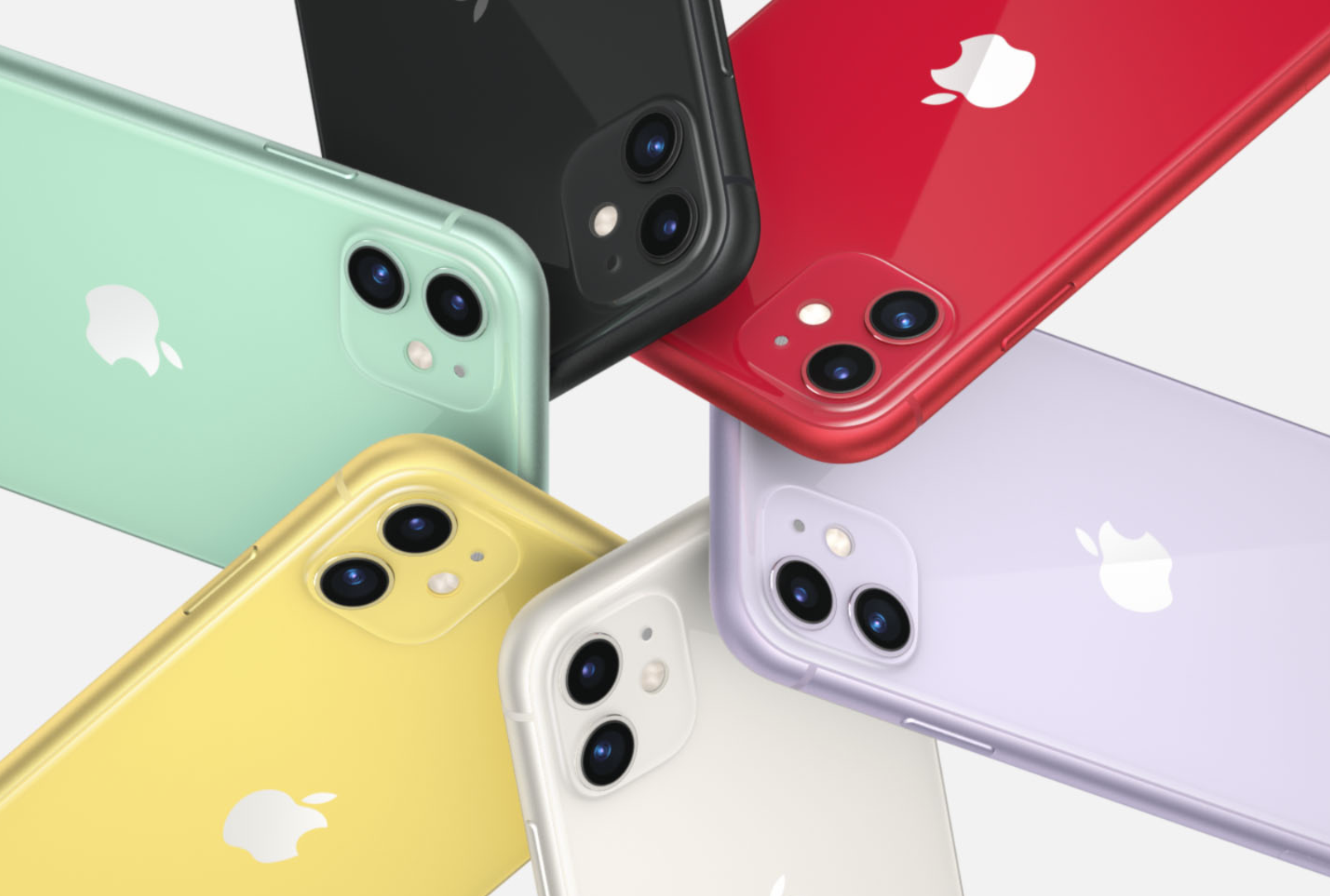 All iPhone 11 colors
A13 Bionic chipset
This wouldn't be a proper new iPhone release if there wasn't a new Apple-designed chipset to push the performance envelope further. The company claims that its new A13 Bionic system can achieve up to 20% higher performance for both CPU and GPU operations, which is a pretty impressive increase.
What's more, the A13 Bionic is more power-efficient than its A12 predecessor, allowing for up to 1 hour longer battery life with the iPhone 11, compared to the iPhone XR.

Dual-camera: main and ultra-wide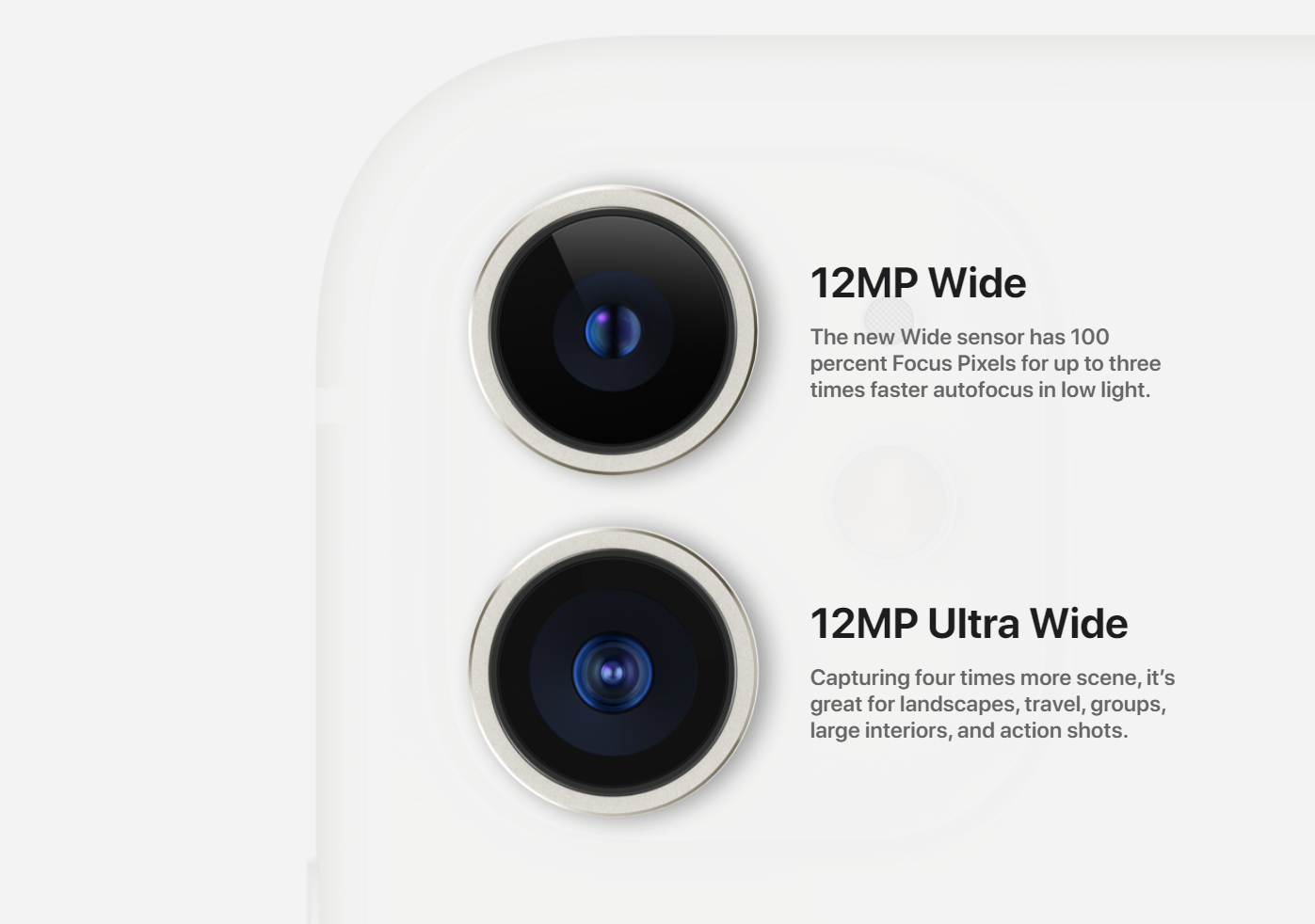 Aside from the new colors, the only other visible change in the iPhone 11 is the camera area, because, well... there are now two of them. The main 12 MP shooter has been upgraded with a new sensor that enables a number of important improvements. These improvements are expected to include considerably better image quality in outdoor and indoor scenarios, especially for low-light, as well as a powerful Night Mode, allowing your iPhone's camera to draw unexpected amounts of light and detail out of very dark conditions.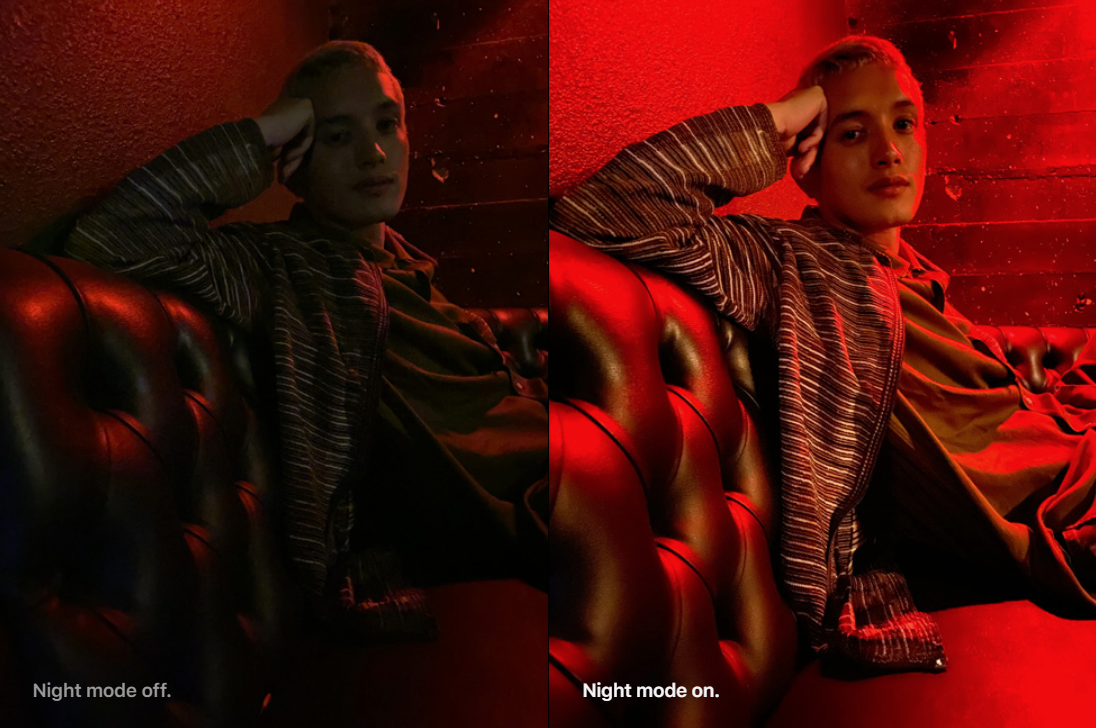 Night Mode lets you capture usable images in near-dark conditions
Dedicated night modes have been getting more and more popular lately in other phones, but Apple's implementation seems to be more polished and promising, as Night Mode is going to be engaged automatically, whenever the iPhone 11 camera deems it needed. Because it's not going to be a user choice whether to have Night Mode enabled or not, we hope it'll also work faster than traditional night camera modes on other phones.
While on the subject of camera, on the front of the phone you'll find the new 12 MP selfie snapper, which will allow for a wider frame when shooting in landscape, as well as supposedly more natural colors, thanks to the next-gen Smart HDR feature. On top of that, the new front-facing camera will support 4K video recording at 60 fps, as well as slow-motion video at up to 120fps.

Finally, a very interesting new detail concerning the mainstream iPhone 11 is that for the first time... ever, Apple is actually reducing the price! While the iPhone XR started at $749, the iPhone 11's base 64 GB storage will be priced at $699, which is terrific news.

iPhone 11 Pro and Pro Max
The ultra-premium iPhones for the pros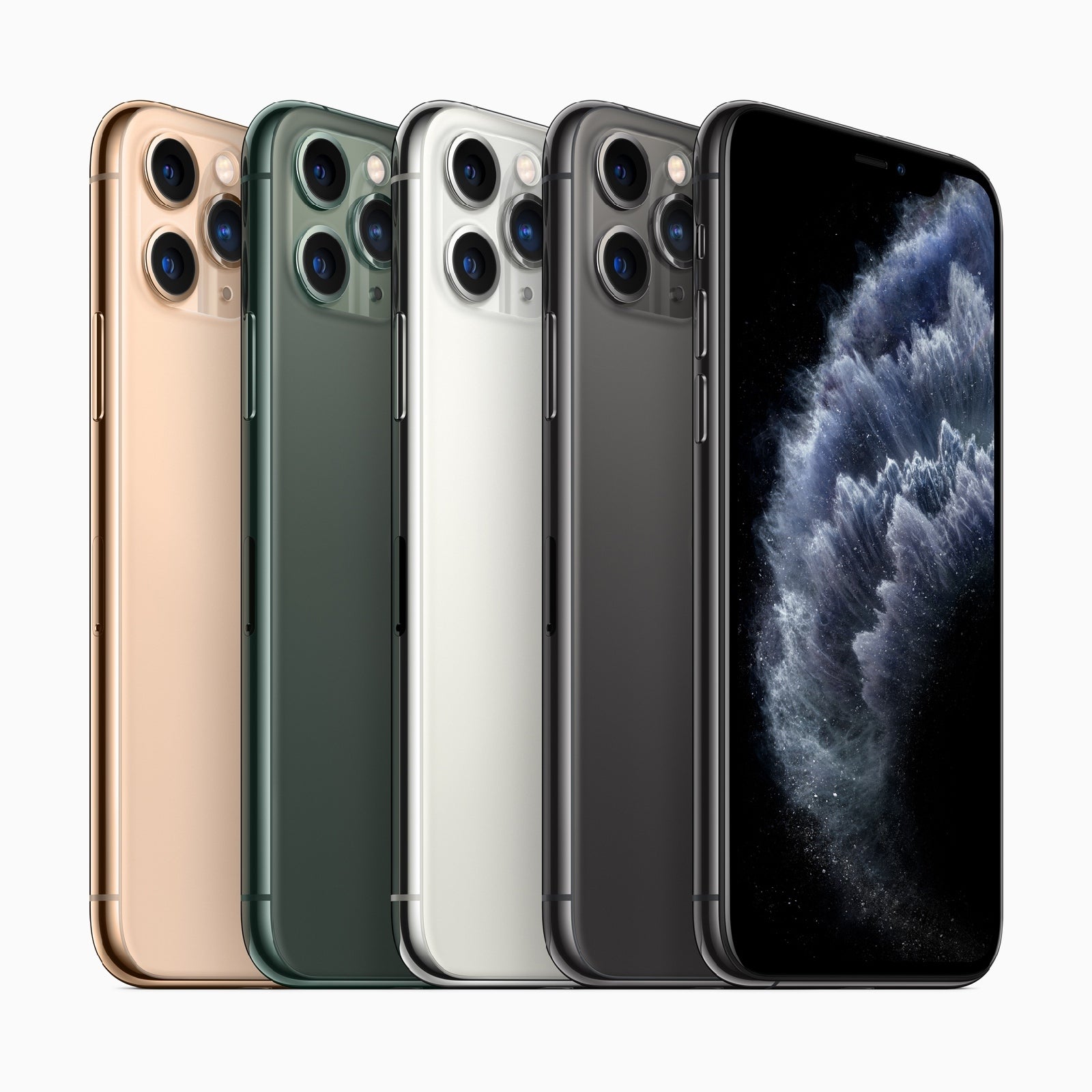 iPhone 11 Pro
While the iPhone 11 is the new iPhone for the masses, Apple's other two new smartphones are on the cutting edge of mobile technology. They are the successors to the ultra-premium iPhone XS and XS Max, and are called iPhone 11 Pro and iPhone 11 Pro Max.
The shape and size of the iPhone 11 Pro is about identical as that of the iPhone XS, but the colors and finishes have been altered. Most notably, there is a new color added to the classic selection of black, white, and gold, and that is midnight green. The new color fits the "Pro" theme nicely, due to its sophisticated, yet toned-down vibe.
What becomes apparent upon slightly closer inspection is that the rear glass panels of the new iPhone Pro line have a matte texture, so they will no longer be glossy and shiny. This is again congruent with the Pro narrative.

Super Retina XDR Display
The iPhone 11 Pro phones feature upgraded OLED displays with improved maximum brightness and dynamic range capabilities. In addition to the same advanced features as before, such as wide-color gamut with system-wide color management, True Tone automatic color temperature adjustment, and ultra high resolution, this new OLED panel is also 15% more power-efficient. According to Apple, it has used similar technology as on its new and mindbogglingly expensive desktop Pro Display XDR monitor, and with that, Apple is giving this new iPhone OLED screen a new name: Super Retina XDR display.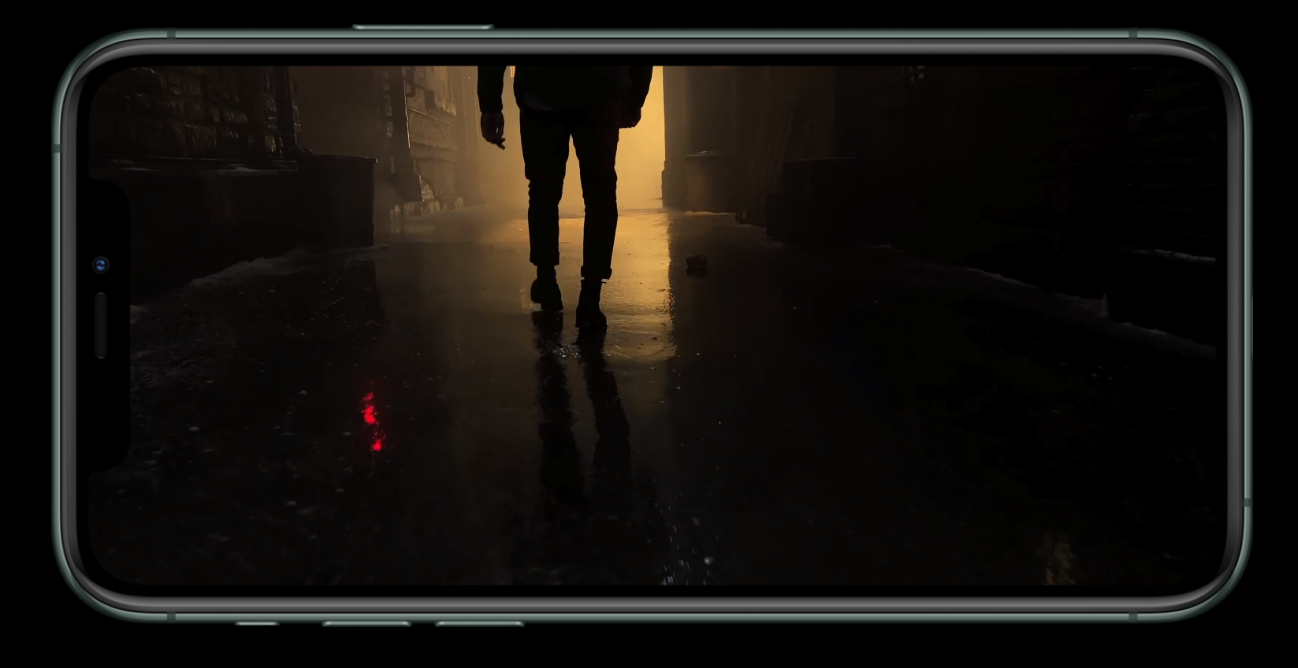 Just like the iPhone 11, the 11 Pro and Pro Max of course feature the latest and greatest Apple system chip, the A13 Bionic, which, in addition to providing 20% increased CPU and GPU performance and being more power-efficient, is also said to be built on the most advanced 7nm architecture. What all of this tech talk means is that it basically doesn't get any better right now in terms of so much power being packed in such a tiny space.

Triple-camera: main, telephoto and ultra-wide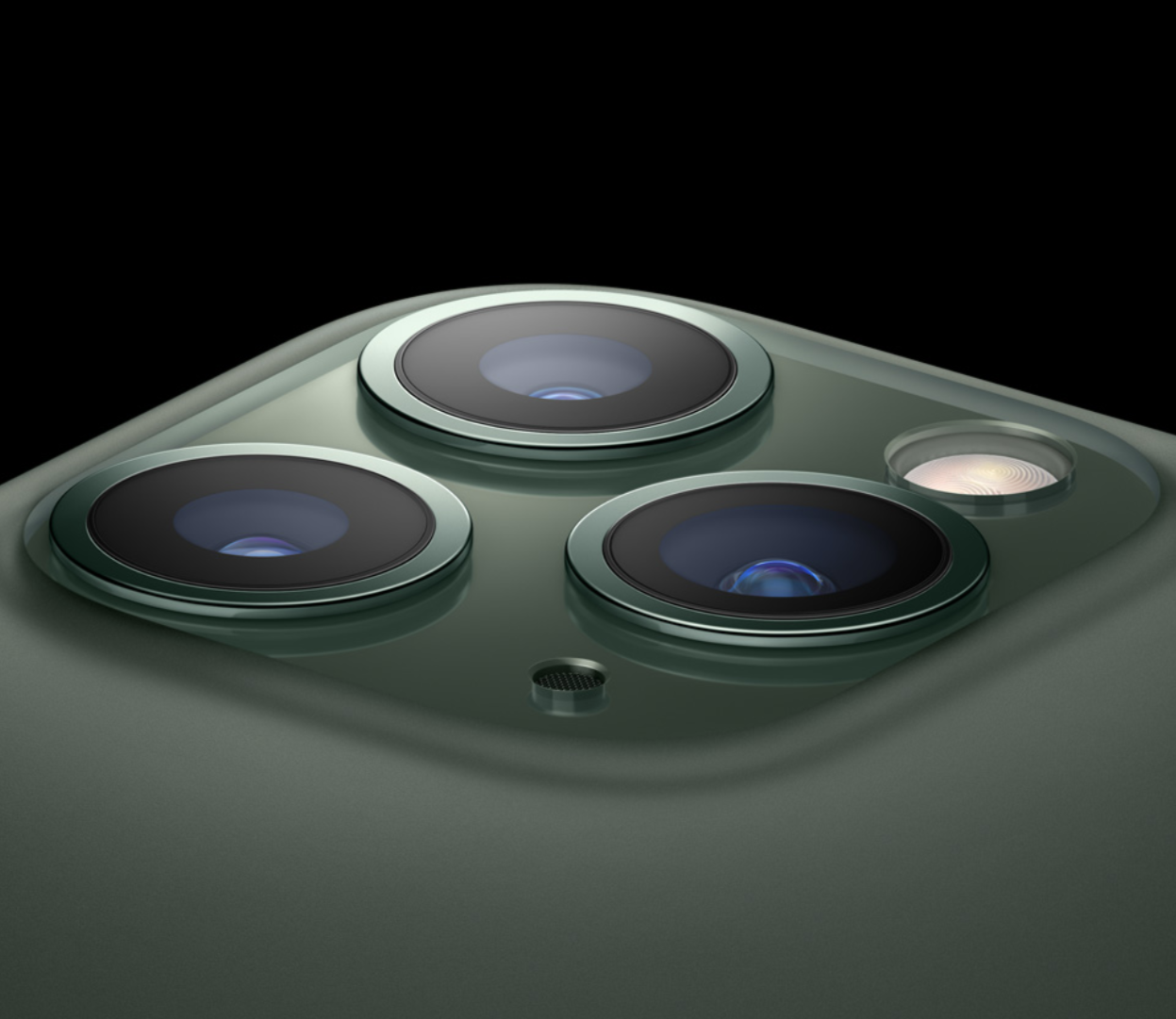 iPhone 11 Pro/11 Pro Max rear camera setup
The iPhone 11 Pro and Pro Max come with a new triple-camera setup, featuring a regular, telephoto, and ultra-wide shooters. The main 12 MP camera has the same improvements as on the iPhone 11, meaning better auto-focus, high expectations for more light sensitivity and detail in challenging low-light situations, as well as automatic Night Mode.
What's also interesting is that the 2x zoom-in telephoto camera is also getting an upgrade. It'll now have a wider, F2.0 aperture, which is going to allow it to capture more light (about 40% more), thus leading to zoomed-in images, as well as portrait shots, of higher clarity and less noise.
Finally, the ultra-wide 12 MP snapper is added to the mix to let you take wider portrait shots, or just impressive images in a variety of situations. For example, the ultra-wide camera can typically deliver pleasant results if you're looking to photograph a huge landscape, or if you find yourself in a tight indoor space and want to include include as much of the place as you can in your shot.
The three cameras will also work in tandem to enable you to capture spectacular video footage. You'll be free to switch between normal, telephoto and ultra-wide at any time while shooting video (up to 4K at 60 fps), and this, combined with the iPhone's other powerful video-capturing features, such as Cinematic Video Stabilization or the new zoom-in audio will allow for a whole new level of flexibility and visual story-telling.

iPhone 11 Pro, Pro Max price and release date
When it comes to the iPhone 11 Pro price, we aren't exactly shocked to find that there is no change.
The 5.8" iPhone 11 Pro will start from $999, while the iPhone 11 Pro Max's base configuration will cost $1099.
Pre-orders for all three new iPhones will begin this Friday, September 13, starting at 5AM PDT. The iPhone 11 series release date is set for September 20.