Apple Watch Series 5 is official: Always-On screen, Compass, $400 starting price
23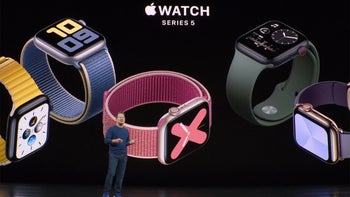 The new Apple Watch Series 5 is here and it comes with an always on display while maintaining the same all-day, 18-hour battery life.
This is possible thanks to a brand new type of super efficient display that can change its refresh rate, and the watch also comes with a quite a few other new features including a built-in compass.
Here is everything new about the Apple Watch Series 5:
Always-on thanks to new screen technology
The Series 5 comes with a brand new
low temperature poly-silicon and oxide display
(LTPO) display and it has a super power: it can refresh as a normal screen, or it can refresh extremely slooowly, so it's a perfect fit for an always-on screen. How does it do it? It can switch from a typical screen refresh rate (60 hertz, or 60 time a second) all the way down to refreshing just once a second (1Hz). Naturally, this means that it is much more power efficient than before, so much so that even with an always-on display mode the Series 5 maintains the same all-day, 18-hour battery life as the Series 4.
This new experience comes mainly from the screen, but technically, it is a a combination of factors: the new display technology, a new low-power driver, a new circuit, a new light ambient sensor and more. It's beautifully complicated.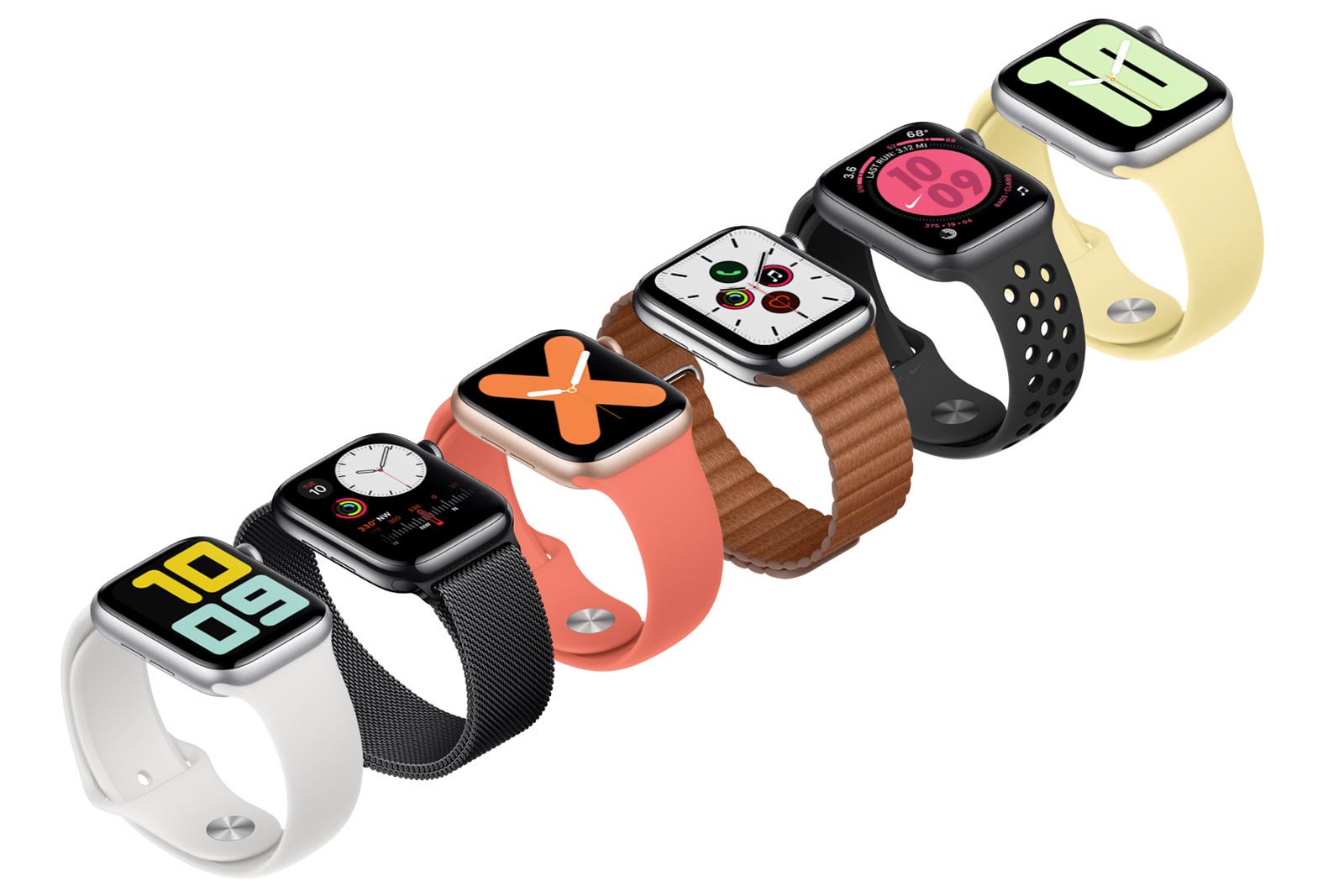 Watchfaces have a grayed out always on version and upon a tap or a flick of the wrist turn colorful
An interesting detail is that the always-on mode comes with a custom, dimmed version of watchfaces and workout screens, and then you can bring the full-color versions of those watchfaces with a tap on the watch or by raising your wrist.
A built-in compass
The Series 5 now also comes with a built-in compass, so you can use the Maps app on the watch just like you would on an iPhone, seeing which way you are headed.


The technical explanation is that the watch features a built-in magnetometer that detects magnetic north which it then automatically adjusts to show true north, in order to show you which way you're facing in the Maps app.
There is a new Compass app as well, where you can see Altitude, Longitude, Elevation and Incline, more than you could ever see on the watch.


Safety features
Previously, Apple had added fall detection, emergency SOS, and medical ID, all incredibly useful safety features.
Now, every Series 5
cellular
model comes with emergency calling that works all across the world. Just press and hold the side button to start an emergency call, even when you don't have your iPhone around. This should bring some more peace of mind when you travel internationally.
You should also know that the new watch has cases that are now made from 100% recycled aluminum, great for the environment.
Apple Watch Edition is back: it now comes in titanium or ceramic
The Series 5 comes with quite a few new colors and finishes, plus the Edition version refers to a brand new version of the watch made out of titanium as well as a re-imagined ceramic body.
Here are all the new finishes:
Aluminum cases are available in space gray, silver and gold
Stainless steel now come in gold and space black, plus the natural steel color
New models for the first time with a case made of titanium. Apple ensures that titanium maintains its color thanks to a special finish, and you have a titanium or space black titanium colors
New brushed space black with diamond like finish
Ceramic comes in a brilliant white color
New Apple Watch Nike models, new bands, sportloops
New Hermes models with color block bands, Hermes models in black, space black cases
Price and Release Date

The Apple Watch Series 5 replaces the Series 4 (meaning that the Series 4 will no longer be sold).
The prices for the Series 5 are the following:
starting from $399 for GPS models (aluminum case)
from $499 for GPS+cellular (aluminum case)
stainless steel models start from $700
Edition titanium starts at $800
Edition ceramic starts at $1300
Finally, the Series 5 is available to order today and will arrive in stores starting Friday, September 20th.
Apple is also keeping Series 3, but dropping its price so it now starts at the quite affordable $199.