No new HomePod at WWDC, but Apple is bringing a long overdue feature to the existing model
2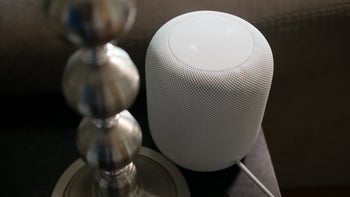 Yes, the
HomePod
is still around. No, the 2017-unveiled, early 2018-released Apple smart speaker didn't get a long overdue sequel at the company's 2019 Worldwide Developers Conference. But after
receiving a permanent price cut
a couple of months ago (and a number of
less permanent
yet
far more attractive discounts
before and after that move), the Siri-controlled device was also briefly mentioned on stage at WWDC earlier today.
The reason for that is a future software update looking to enable a number of features we're frankly astounded haven't been available much sooner. First and foremost, multi-user support is finally,
finally
, fi-na-lly coming to the Apple
HomePod
... at some point in the next few months. Basically, Siri will be able to distinguish between different voices to identify exactly who's asking the voice assistant to do what.
That way, the entire family will enjoy interacting with the smart speaker more, as each member will be allowed to keep their music, messages, reminders, and other personal information separate and private. Sounds... incredibly basic for a gadget relying primarily on voice assistance to provide help around the house, and indeed, the Amazon Echo and Google Home lineups have offered this type of functionality for a fairly long time.
Another (relatively) important feature coming to the HomePod soon (probably alongside the
iOS 13
release in the fall) is music handoff, which essentially means you can transfer the audio from your iPhone to your smart speaker (and vice versa) just by bringing the two devices physically close to each other. In other words, you can start streaming your favorite tunes on your handset on the move, then continue without skipping a beat on your HomePod when you want to relax on your couch.
Last but certainly not least, Apple is expanding the live radio listening capabilities of the company's first (and only) smart speaker to include thousands of stations from iHeartRadio, TuneIn, and Radio.com. Still no Spotify, Pandora, or YouTube Music support, though.