Second-gen Apple AirPods get their first notable discount with standard charging case
0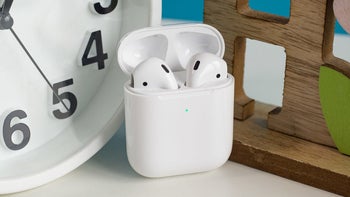 Apple's
refreshed AirPods
have some
robust competition on the way
in the form of the... Apple-made
Beats Powerbeats Pro
, so it's not exactly shocking to see the new Hey Siri-enabled
wireless headphones
already discounted at a reputable third-party retailer.
While you're obviously not looking at massive savings here, they're certainly better than nothing and definitely better than what might be coming to the official Apple Store in terms of deals, which is also nothing. Unfortunately, you need a Costco membership to take around 20 bucks off the $159 list price of the second-generation Apple
AirPods
with a standard charging case.
That means you'll be coughing up just $139.99 (if you're a member) for a pair of non-
wireless charging
-capable
earbuds
with absolutely no cords, an upgraded Apple H1 chip under the hood, hands-free Siri interaction, and a battery life of up to 5 hours, which you can boost to more than 24 hours with the help of the aforementioned wired case that can hold "multiple charges."
Of course, if you're interested in a more rugged design, secure fit, and even longer battery life, you may as well wait until next month for the commercial debut of the Powerbeats Pro. Then again, those bad boys are officially priced at $250, technically catering to a slightly different target audience.
Back to Costco's second-gen AirPods deal, we should probably mention you also need to cough up a $5 shipping fee. But you might be able to dodge that by visiting a brick and mortar store around you, in which case you're looking at a decent 15 percent discount for a brand-new and no doubt immensely popular product.