aisle411 for the iPhone navigates the retail maze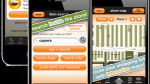 Here comes another intricate location-based app for the
iPhone
. aisle411 is a shopping app that will not only manage you shopping lists, but guide you through the retail store when you get there. Beyond that, it also has social networking functions akin to
Foursquare
.
aisle411 has a number of features, most of which we're already familiar with. You can use voice commands to look up generic or specific products, then add them to your
shopping
list. When in the store, you can scan barcodes to look up product reviews and discounts.
By checking in at certain stores using aisle411, you can also get special offers and
coupons
to use on your purchases. You can also earn achievements like badges and titles on Facebook and Twitter, like becoming 'Captain' of a particular store.
The most exciting feature is the in-store mapping. When you make a given shopping list, it will automatically organize it by section in the store, so you don't find yourself walking back and forth unnecessarily as you work down your list.
The service is currently available for Lowe's, The Home Depot, and a number of grocery stores. If you've spent any time in a Lowe's or Home Depot, you know that mapping would be an invaluable feature. Those home improvement stores are a virtual maze, and for some of us, the aisle markers don't really make it any easier.
While
retailers
are reportedly joining on a daily basis, there is also a crowd-sourcing feature, which allows you to post helpful navigation hints to for other shoppers. You can also edit existing maps that may have changed their layout.
aisle411 is available for free on the iPhone, and will be released for Android and Blackberry some time in 2011. Happy shopping!
source:
aisle411
via
Yahoo! News