Foursquare logs 50,000 voter check-ins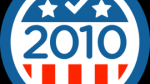 In the spirit of democracy,
Foursquare
launched the "I Voted" project to track the mid-term elections. The project was a collaboration between Foursquare, a data visualization company called JESS3, and
Google
, among others. "I voted" was a relative success, logging 50,000 check-ins across the country.
The project first mapped out 100,000 polling locations around the country. They then used a live map, created by JESS3, to visually track the
polling
check-ins. You can watch a replay of the polling activity on the source link below.
Voters from
New York
and
California
had the most impressive numbers, with 7,274 and 5,988 check-ins. The numbers paled in comparison to those of Facebook. Randi Zuckerberg reported that 11 million Facebook users clicked the 'I Voted' button.
We should keep in mind, though, that Foursquare is still young, and more of a niche social network than
Facebook
. Foursquare's real intention was to prepare for the 2012 Presidential election, for which they'll likely roll out more marketing as well as functionality.
source:
Foursquare
via
TechCrunch