iGarageSale for iPhone makes Saturday shopping a snap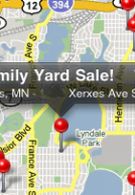 There's something ironic about tech-savvy early adopters getting excited about going to garage sales, but stranger things have happened. If you are a Saturday shopper with an iPhone, then iGarageSale from Performant Design, LLC is for you. It links to Craigslist, mapping area garage sales, and providing the brief summaries that would be featured on their Craigslist postings.
But the best feature of all is that you can search through the garage sale listings, filtering your pinpointed sales to only those including specific terms like 'furniture', 'crib', or anything else you might be tracking down. Reviews sound very positive, and at $1.99 US, the app is a pretty good deal. Some complain that there is no way to post your own sale via the app, but posting through Craigslist is certainly no more complicated.
source:
Appolicious
,
iGarageSaleApp