ZUK Z1 launches in the Middle East, coming to select European markets soon
1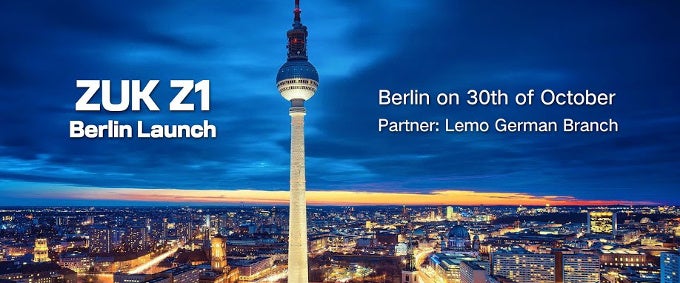 This story is sponsored by ZUK. PhoneArena's opinions in this article have not been affected in any way!
Disclaimer
Earlier this week,
ZUK held a press conference in Dubai
, where it announced plans for a global rollout of its first and only device so far, the CyanogenOS-powered Z1. The first region where the Lenovo-backed fledgling phone maker releases its handset is the Middle East as a part of an ongoing collaboration with Comtel, a large locally-operating handset distributor, and Souq.com, one of the bigger e-commerce platforms in the Middle East.
ZUK revealed additional information about the phone's future availability: it is hitting select markets across Europe and Southeast Asia in the coming weeks, most probably before the end of 2015. The European availability of the device will be discussed at a press conference in Berlin that will be held on October 30.
"It is indeed a proud moment for us to introduce ZUK Mobile in the region in partnership with Comtel. We believe partnering with a key distributor as Comtel will give our brand the platform and the momentum to penetrate into high growth and far reaching markets in the MEA region,"
said ZUK's CMO, Mr. Jin Chen, in relation with the Middle Eastern launch of the phone.
"Our strategy is to offer a limited but powerful portfolio of models - each device will be a master-piece at a price which will wow our customers and channel."
As a refresher, the ZUK Z1 is a 5.5-inch device sporting a 1080p display, a quad-core Snapdragon 801 chipset grinding the cogs at 2.5GHz, 3GB of RAM, 64 gigs of native storage, and a 4,100mAh battery. There's also a reversible USB Type-C connector at the bottom, as well as a physical home key that doubles as a fingerprint reader. Two SIM card slots and a LTE are aboard. Powering the phone is the Android
5.1
.1-based CyanogenOS 12.1, with Android Marshmallow expected to debut soon.
"We promise high performance smartphone devices that offer a unique experience with features which set apart from the rest of the devices available in the market. Powered by the Cyanogen OS, ZUK devices will offer a customer experience which incorporates some of the most advanced customization, performance and security technology available,"
ZUK's Head of Devices, Mr.Lee, claimed during the Dubai-held event.