Working Samsung Galaxy S8 leaked in high quality image
63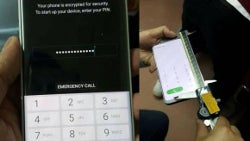 Over the weekend, we caught
a seemingly legit glimpse
of the
Samsung Galaxy S8
on video. Though brief, the clip did manage to showcase the device's curves, all of which align nicely with the recent flurry of rumors. Now, yet another sighting of a functional Galaxy S8 has popped up in the wild, this time in a lighter color.
Aside from giving us perhaps our best live peek at the Galaxy S8 to date, the new photos don't tell us much we don't already (think we) know. As has long been expected, there's no home button, and as we can see, there's a trio of software keys at the bottom of the UI. From left to right, it's probable that these represent the app drawer, home and back, which is a configuration that Samsung has used many times in the past.
In a second image, the device's display is measured, though it's difficult to make out what the precise readings are. It's likely that we're looking at the standard Galaxy S8 here, which is expected to pack a display of 5.8 inches. The larger
Galaxy S8+ (Plus)
, meanwhile, may offer a 6.2-inch display. If these supposed diameters are accurate, both variants will boast larger displays than the
Galaxy Note 7
, placing them very much within phablet territory.
Based on the new images, do you like what you see of Samsung's next big thing? Let us know what you think in the comments and remember, you can keep updated on all the Galaxy S8 pre-
announcement
info
via our rumor review
.