Windows Mobile 6.5.3 caught on video
This article contains unofficial information.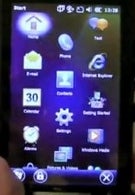 Thanks to the guys at Phonescoop, we now can view Windows Mobile 6.
5.3
in action. A lot of the changes are based on common sense! Shocking, we know. For example, many of the function buttons have been moved from the top of the screen to the bottom for no other reason than that your thumb is closer to the bottom of a smartphone display than the top. But that is the kind of attention to details that you can see with this build. Widgets at the top of the display allow you to quickly head to certain parts of the phone. Swiping on the QWERTY keyboard turns it into a numbers pad. Swipe back and it's a QWERTY keyboard again. Swipe another time and the keyboard becomes a standard triple tap pad. Windows Mobile 6.5.3 is very finger friendly and while some things remain the same, the changes that have been made do improve the user's experience. Your options are more within reach and the OS runs smoother and faster. If you are a fan of Windows Mobile, yo0u are going to want to watch this a few times while the excitement builds up.
source:
Phonescoop
via
MobileCrunch