Will playing Pokemon Go be the watershed moment for augmented reality?
30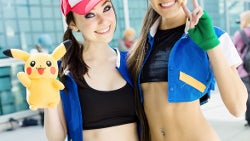 Right into Weekend 1 with
Pokemon Go
, it started to feel like this might be the title which the augmented reality (AR) tech has been waiting for. The improbable combination of the beloved Pokemon characters superimposed on our real world by the groundbreaking AR technology of Niantic, also makers of Ingress, both struck a nostalgic nerve, and recruited new followers for the Pokemon franchise.
Thus, we are now having two or three generations hooked up to virtual characters interacting in the real world around us, to the extent that Niantic's servers got overwhelmed and brought down, while Pokemon Go has become
the most popular mobile game in the US
, and has
surpassed apps like Tinder or Twitter
in its installation base.
Fusing our real world surroundings with the beloved Pokemon game characters has made geeks actually get up and go out, with all the
weird stuff
that might be going on out there, that is why we wanted to ask you if you think that Pokemon Go has the potential to be that watershed moment for AR that the technology has badly needed to become mainstream. Tell us in the poll, and share your level below.