White Apple iPhone 4 now delayed until next Spring
4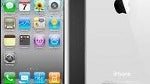 Just the other day, we
reported
that the white Apple iPhone 4 had been added as an option on the Apple Store iPhone app. This would seem to give you the opportunity to reserve the mythical handset in either the 16GB or 32GB model. But even if you clicked very hard with all of your might, you never would have reserved a white iPhone 4 because, as it turned out, the manufacturer had disabled the app and no reservations were being accepted.
According to Apple, the white iPhone 4 has been delayed for the third time and is now expected to ship in Spring of 2011. The Cupertino based firm has never given an explanation for the hold up other than saying that the white unit is
"more challenging to manufacture than we originally expected." During the summer, we told you that because of the white color, light from inside the unit was seeping out the sides and through the back cover of the phone.



Apple spokeswoman Trudy Muller said, "
We're sorry to disappoint customers waiting for the white iPhone again." The Apple iPhone 4 was launched last June and the white model was instantly delayed until July. Then, a second delay took the launch to the end of the year before the latest setback. Hopefully for Apple, and for those just dying to get their hands on this unit, the third time will be the charm.

source: Reuters