Where did all the Windows Phones go on T-Mobile's website?
10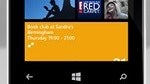 Usually things like this are not cause for concern,
we have seen devices come and go
off of carrier web-sites in the past.
However to see an entire line of devices disappear from its offerings does raise an eyebrow or two. As of this writing, T-Mobile's website is devoid of any Windows Phone devices.
This may be an adjustment to inventory codes, or perhaps it is related to the pending release of new Windows Phone devices that are expected to be announced by
Nokia on May 14th
. What Nokia has in store for us in London next week is
up for speculation
. We are fairly certain that
Nokia will unveil the Lumia 928
which is bound for Verizon.
There have been rumors about a device codenamed "Catwalk" which may be coming to T-Mobile. It may be a relative to the Lumia 928, but we have
not seen very many leaks or images about such a device
. It also seems odd that T-Mobile would pull the curtain down on Windows Phone unless something special is in store with the highly affordable
Lumia 521
which
sold out in minutes at Wal-Mart
.
We called around to a couple T-Mobile stores in Northern California, and several were totally out of stock of the
Nokia Lumia 810
and
Windows Phone 8X by HTC
. When we called T-Mobile's phone sales team, they had no explanation about the abrupt absence of Windows Phone devices in their system.
We are fairly confident that this is not an indication that T-Mobile USA is closing the door on Windows Phone. As for what T-Mobile has up its sleeve, we will have to wait and see.
source:
T-Mobile USA