Where color is born: a photo tour of Nokia's redesigned offices
62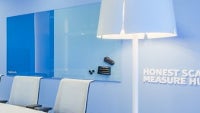 Nokia is now best known for its colorful handsets - cyan, red, yellow, all those vivid colors stand out in a world of uniform black and silver slates. The Finnish company however takes pride in reflecting this new vision in not just its devices, but also workspace. A new project to redesign the company headquarters (Nokia
sold its HQ building
and rented it back), brings all those colors into meeting rooms and offices in a typical Nordic design fashion.
Simple and colorful, those are the ideas that drive the looks and feel of the redesigned Nokia offices and now for a first time we get to peek inside one of the biggest phone manufacturers.
Nokia grew Lumia sales to a
record 7.4 million
in the second quarter, but Microsoft's platform just cannot get enough traction to compete with the big two, Android and iOS. Still, it has now comfortably settled into third place, way ahead of ailing BlackBerry.
It's a tough time for Nokia. The two-year transition period that
kicked off in February 2011
is long over and the company is under pressure to deliver better sales. Slow Windows Phone updates and a surprisingly low marketing effort for the heavy hitter Lumia 1020 however maka us wonder whether Nokia can really pull this off. Hopefully, it will.
It's employees definitely got plenty of stimulus with those new cheerful offices. Take a look at how the Nokia HQ looks now right below.
source:
Nokia.fi
(translated)