Nokia sells a record 7.4 million Lumia smartphones in Q2
70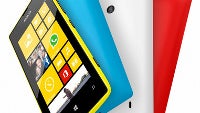 Nokia has once again ramped up Lumia Windows Phone sales to
a record 7.4 million
in Q2 2013, up from 5.6 million in the first quarter of the year, according to the company's official financial report for the past quarter. The 32% growth shows that the launch of the affordable Lumia 520 has boosted volume sales.
With more affordable devices in its portfolio,the average price of Lumia smartphones sold however has dropped sharply to 157 euro ($206) apiece, down from 182 euro average in the preceding quarter.
Nokia chief executive Stephen Elop mentioned the
immense popularity of the Lumia 520
in markets like China, France, India, Thailand, the UK, the US and Vietnam.
"During the third quarter, we expect that our new Lumia products will drive a significant part of our Smart Devices revenue,"
Elop said.
The other big takeaway is that
feature phone sales have declined
, but the slump is not huge and Nokia claims there were 'some signs of recovery in the latter part of the quarter' as the Nokia Asha 501 and Asha 210 started hitting store shelves. Nokia sold 53.7 million feature phones, down from 55.8 million in the first quarter. Average price for Nokia feature phones fell even further down to a record low 26 euro.
In terms of pure financials, smartphone sales amounted to 1.164 billion euro ($1.528 billion) while feature phone sales stood at 1.4 billion euro ($1.84 billion).
Overall, Nokia's smartphone division
net sales dropped
6% sequentially to 2.724 billion euro ($3.577 billion). Nokia's operating margin stands at -1.2% and operating profit was in the red at -33 million euro.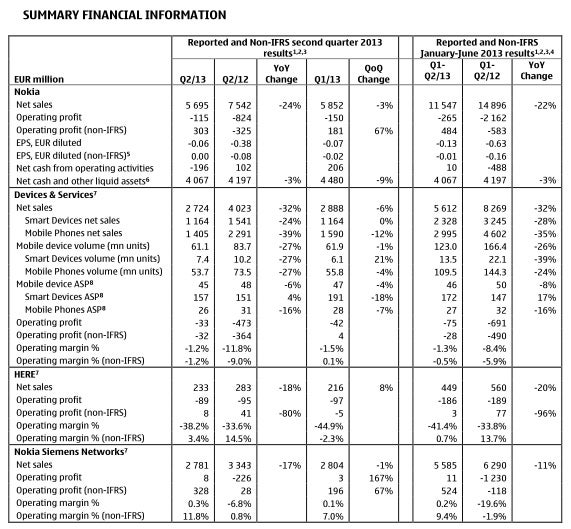 source:
Nokia