Nokia: two years after the Windows Phone adoption
99+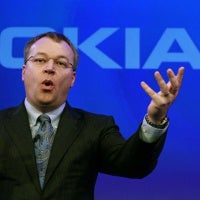 It feels like yesterday when we heard Nokia chief executive
Stephen Elop shock the industry
with his announcement that the then world's largest feature and smartphone maker will adopt Windows Phone as its main smartphone platform, and jump off the
'burning platform' Symbian
.
The exact date was February 11th, and the announcement came with the usual Microsoft aplomb, this time adopted by Nokia:
"There are other mobile ecosystems. We will disrupt them.
There will be challenges. We will overcome them.
Success requires speed. We will be swift.
Together, we see the opportunity, and we have the will, the resources and the drive to succeed."

How well is that going? Two years after it started its huge transformation, it's time to recap Nokia's situation and face the facts. Two years ago, Nokia said 2011 and 2012 will be the transitional years, and now in 2013 it can no longer blame that transformational period for slow sales.
The company has
'optimized' workforce
(a bureaucratic term for cutting jobs), sold non-core assets (like Nokia's headquarters in Finland, which the company is now leasing),
slashed R&D
, and saw a huge outflow of top-level management and talent.
Nokia
's camera guru Damian Dinning has left
,
Nokia's sales head quit
and the whole management was reorganized.
All of that has happened in a monumental effort towards Nokia's Windows Phone Lumia smartphones. Unfortunately, the fruits of that labor are little. Nokia
sold a record 4.4 million Lumias
in the Holiday quarter, but that record looked paltry against
47.8 million iPhones sold in the same period
, ten times as many as the Lumias.
Actually, looking at the whole of 2012, you'd still see Symbian, the 'burning platform', outsold Windows Phone-based Lumias by a huge margin. Nokia sold around 21.8 million Symbian devices against only some 13.3 million Lumias in 2012.
Reality struck catastrophically in 2012 as
Nokia posted record losses
, only swinging back to a
slight profit in Q4 2012
. Once the undisputed leader and innovator in smartphones, often considered creator of the smartphone, Nokia's market share collapsed to
5.1
% of the market cannibalized by Samsung that rose by more than 50%.
From a market leader with 33.7% of the smartphone market in 2010, Nokia held only 5.1% of the market in 2012.
2012 Smartphone market share by vendor
What's worse is that its main platform,
Windows Phone, grabbed a measly 2% share of all smartphones
sold in 2012. BlackBerry, Symbian and even bada all outsold it this year. We're not even comparing this with the market leader Android and the only close runner-up, iOS.
Nokia has tried to refocus on the North American market, but even at its best, the company sold only 1 million Lumias in a quarter when Apple sold 18 million iPhones in the same period. That is outselling Nokia 18 to 1, a number that leaves comments out.
Back in February 2011
, Nokia's chief executive stated numerous times
"It's now a three-horse race."
The reality of the situation however could not be further away from the truth. Globally, Android is running the smartphone show and Apple is playing catch-up.
Nokia has lost key markets like China, and could not conquer the new ones it wanted like North America. Windows Phone is also not getting much traction with customers.
Nokia is preparing to finally deliver its supposed savior, a true PureView smartphone (where by true we mean one with a huge sensor and unmatched all-around quality like the 808 PureView) for MWC, but the situation has changed. As exciting as it sounds, it could be too little and too late for the company to claim back its spot in the lead.
2012 Smartphone market share by platform