Want to play hide the notch? Nacho Notch is at Google Play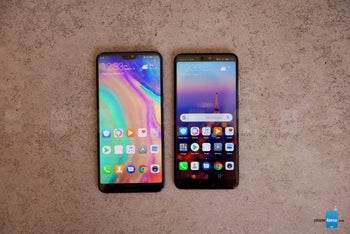 Android tribe embraced
the top screen cutout. Love it or leave it, the notch is here to stay, at least until
Apple decides to get rid of it
, and everyone ditches it again. We kid, but the proliferation of the screen horns allows manufacturers to brag with some amazing screen-to-body ratios without breaking a sweat.
The thing is, however, that you can't use the screen area where the notch is (duh), and pinching to expand a YouTube video to watch on the whole screen will incorporate it in a rather annoying manner. Thankfully, even before Google reacted by providing
native notch support in Android P
, Huawei has given us the option to "hide" it in its latest Emotion UI edition that is on the
P20
and
Pro
. "Hiding" involves painting the status bar in the horns in black, so as to fuse with the bezel's protrusion at the top. It doesn't
work as well on LCD displays
as on OLED ones, but is still mimicking a phone with a regular rectangular aspect.
What if you don't have Emotion UI, and your notch-y phone doesn't provide an option to hide the cutout in its settings? Fret not, because enterprising developers are here to help. Enter Nacho Notch, a funky name for a useful app that paints the status bar in notch black (yes, it's a hue now). The best part? It automatically adjusts for the height of your screen cutout, and only needs to be added as a tile in your notification center.