Android P features leak, notch support incoming
34
Despite the fact the latest major Android version – Android 8 Oreo – is present on little more than 1% of all Android devices, we've already got some details on the next big Android update – Android 9.0 P, having the internal code name 'Pistachio Ice Cream'.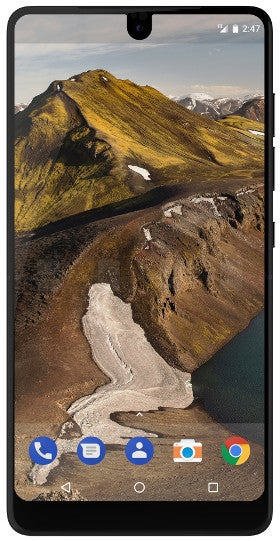 The Essential Phone is currently the only Android smartphone featuring a notch. Funnily enough, its also one of the few devices to get regular Android updates.
According to insider sources, Google has already laid out the main goals of Android 9.0 P. One of them is said to be a visual overhaul of the OS to make the software more appealing. Reportedly, Google is aiming to draw the attention of iOS users with this move, hoping to make them switch over to Android. As part of the overhaul, Android 9.0 P is expected to bring support for notch-sporting cellphones a la iPhone X.
Currently, there's only one Android device with such a feature – the
Essential Phone
. It has a small yet easily noticeable cutout in the upper section of its screen to fit a front-facing camera. Due to the lack of native support for such quirks, its maker had to adapt the software so that apps, notifications, and status information are properly shown instead of being obscured by the missing display portion. Rumors have it that Huawei is also in the making of a device with a notch similar to the one on the iPhone X.
Display peculiarities aside, Android 9.0 P is also expected to gain support for new device designs. This would include devices with multiple and flexible displays, such as the ZTE Axon M and the rumored Samsung Galaxy foldable smartphone. Battery life improvements are coming as well, according to the source.
Google is also seeking out ways to make the Google Assistant play a bigger part in the Android experience, and the next step would be to allow developers to include it into their apps. Unfortunately, none of these changes will be implemented until the next year, the source states. For comparison's sake, Apple has already allowed developers to integrate Siri into their apps using SiriKit, released alongside iOS 10.
We can expect to get more information about Android 9.0 P at this year's Google I/O, which will be held from May 8 to May 10. There's also the possibility that we get a developer's preview before that,
as we did with Android 8 Oreo
. The last couple of major Android updates were previewed at the convention, so we believe this trend will continue. As for an actual release date – that's probably going to be sometime in the fall, alongside the release of the new Pixel smartphones.