WSJ says Verizon, AT&T and Sprint to get Samsung Galaxy Tab
This article contains unofficial information.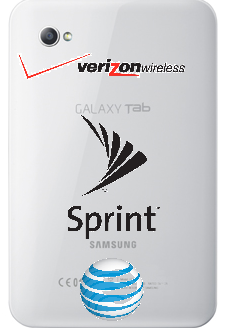 Recently, we
reported
that Verizon would get to offer a CDMA version of the Samsung Galaxy Tab. We also
let you know
that a version of the tablet appeared likely to be offered by AT&T as well. According to the WSJ, not only are both stories correct, but you can add in another carrier-Sprint-as the trio likely to have the Galaxy Tab on their lineup. The tablet will be introduced by Samsung on September 16th at an event in New York City's Time Warner Center.
Samsung is going to need all of the carriers and retailers it can find to carry the Galaxy Tab if it is to make good on its forecast to sell 10 million units and grab a third of the market by the end of next year. The good thing for the Korean based manufacturer is that its heavy spending on television ads to promote its "Galaxy S" line of handsets should help the Galaxy Tab gain brand recognition. After all, the device is simply an enlarged version of the Galaxy S phone (albeit without the Super AMOLED screen), complete with a cellular connection.
There has been no definitive word on pricing or launch date. A source close to the situation said that Verizon is still deciding whether or not to offer subsidized pricing on the tablet. As we
reported
, Samsung executive Hankil Yoon said that the product would probably retail for between $200 and $300 with the final price tag determined by how much of a subsidy each carrier will provide.
Samsung Galaxy Tab Preview
source:
WSJ