Samsung executive reveals pricing info on Galaxy Tab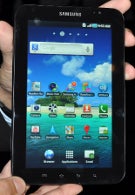 Hankil Yoon is a product manager for Samsung, and he has revealed some pricing information on the Galaxy Tab. The 7 inch Android tablet, which was
introduced this past week
at the IFA show in Berlin, is expected to be sold through cellular carriers at a price range of $200-$300 depending on the amount of the subsidy each carrier decides to offer. The tablet will not be sold directly to the consumer by the Korean based manufacturer.
The Galaxy Tab will launch first in Italy, making its way around the world. Vodafone said it will be offering the device next month to most of its European and other markets. Samsung said it is negotiating with multiple U.S. carriers and
according to a leaked Verizon roadmap
, should reach Big Red's customers by November. We recently
reported
that fellow CDMA carrier Sprint would also be launching the product during the same month.
The Galaxy Tab will be competing with the iPad and other
recently announced tablets
like the ViewSonic Viewpad 7. Yoon said that Samsung will ship 10 million units next year and will take a third of the global market for tablets. The executive added that the company is looking into offering a whole line of Galaxy Tab models including a product with a 10 inch screen and one with a 6 inch display. Running on Android 2.2, the tablet will support Adobe Flash.
With a smaller screen than the 9.7 inch iPad, the Galaxy Tab can be held one handed. Other differences between the two include a rear camera on the back of the Samsung tablet and a microSD slot to add memory. The Samsung Galaxy Tab will also have the capability to make phone calls, but it will be up to each carrier to decide whether or not to enable that function on the Galaxy Tab model that they will be offering.
Samsung Galaxy Tab Preview
source:
WSJ