WSJ: iPhone 7 won't bring major changes because new Apple technologies are not ready yet
84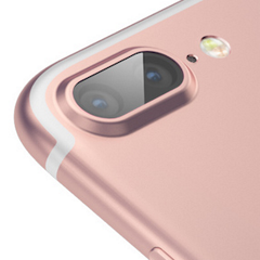 Apple usually redesigns iPhones once every two years, but it looks more and more like this won't happen in 2016 - despite the fact that the last major redesign came with the iPhone 6 and iPhone 6 Plus in 2014 (two years ago).
According to The Wall Street Journal and "people familiar with the matter", this year's two new iPhones - probably called
iPhone 7
and
iPhone 7 Plus
- will introduce "subtle" modifications, the most important among them being
the lack of a 3.5mm audio jack
. As previously reported, the next-gen iPhones will use their Lightning connectors for both charging the battery, and connecting headphones. But this doesn't mean you have to throw away all your 3.5mm headphones, as Apple seemingly plans to
include a 3.5mm to Lightning adapter
in the retail boxes of its new iPhones. In fact, a pair of standard 3.5mm EarPods should be included as well.
It's not the first time we're hearing about the fact that
the iPhone 7 series won't be too different
from the iPhone 6 and 6s families. However, the report from Wall Street Journal certainly adds credibility to all the previous rumors regarding this.
It's
iPhone 7 will be thinner than the 6s, but is this what users really want?
said that the lack of a 3.5mm headset jack will allow Apple to make the new iPhones about 1 mm thinner than the current models, while also enhancing their water-resistance. That aside, the iPhone 7 and iPhone 7 Plus should offer displays similar to those found on the iPhone 6 and 6s series: 4.7 inches and 5.5 inches, respectively. Screen resolutions should also remain unchanged.
The Wall Street Journal notes that Apple isn't significantly modifying the design of this year's iPhones because, while the company is working on various new technologies, these take (more) time to be implemented. Thus, that long rumored
dual rear camera
- depicted in the image above - might not make it into the final design of the iPhone 7. Another major new feature that is seemingly saved for iPhones coming in 2017 or beyond may be a curved OLED display with embedded fingerprint sensor (this would eliminate the need of a physical home button, while also reducing bezel size).
Right now, it's obviously hard to tell how successful the iPhone 7 and iPhone 7 Plus will be, seeing that they might not offer features capable of actually exciting customers. But let's wait and see what happens in September, when the two new Apple smartphones should be announced and released around the world.
source:
The Wall Street Journal