Video shows off BlackBerry PlayBook in action for the first time, using Adobe-built apps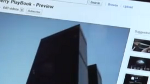 Mike Lazaridus, Co-CEO of RIM and Kevin Lynch, Adobe's CTO, got together to show off some of the Adobe built apps found on the BlackBerry PlayBook tablet. Besides watching the full YouTube site play videos thanks to Adobe Flash, the duo also showed off the music player and the media player of the tablet, both written using Adobe Air. Lazaridus discussed how Adobe Air is "embedded" with the BlackBerry OS used on the tablet and allows for multitasking between apps.
While Lazaridus announced the release of the BlackBerry Software Developer Kit for Adobe Air, he also provided some motivation for code writers in the audience. Anyone who writes an app for RIM's new tablet, which gets the green light to be distributed on BlackBerry App World, will be eligible to receive a free BlackBerry PlayBook.
source:
BlackBerryCool