Video shows BlackBerry 6 OS working on the non-touch Bold 9650
0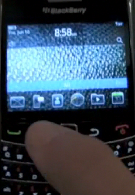 The new BlackBerry 6 OS debuted with last week's launch of the 'Berry Torch 9800. Since most of the navigation on that device is done using the touchscreen, we have seen the new OS score a passing grade by being the most finger friendly and multimedia centric of any prior BlackBerry operating system. But the new software surely wasn't developed for just one phone, and as we
reported
, some current models are expected to be upgraded with the new OS.
One of the models to get the new software will be the Bold 9650. This is a device that uses an optical trackpad for navigation, and is the phone that is the subject of the video below. While it is one thing to flick your way around the Torch using the BlackBerry 6 OS, it is another thing to scroll your way around using the trackpad. The video displays a few hiccups in the software here and there. but outside of that, the OS certainly seems to run smoothly. Besides this model, the other two devices to get the new software will be the Pearl 3G (currently available overseas only) and the Bold 9700. The so far unannounced Bold Refresh 9780 is also
expected to have the new OS
under the hood if or when it launches.
RIM BlackBerry Pearl 9105 Specifications
RIM BlackBerry Pearl 9100 Specifications
RIM BlackBerry Torch 9800 Specifications
|
Review
RIM BlackBerry Bold 9650 Specifications
|
Review
RIM BlackBerry Bold 9700 Specifications
|
Review
source:
BlackBerryLEAKS