RIM BlackBerry Bold 9650 Review
10

Introduction:
The oft-praised
BlackBerry Bold
has landed on CDMA networks, kind of. The Bold 9000 was the first "premium" BlackBerry device and instantly made CDMA users jealous, as it was exclusively launched for GSM. The jealousy did not last for long, however, as the
Tour 9630
was released half a year later and offered most of the Bold's goodies in a sleeker package with a few upgrades of its own. The
Bold 9700
was then released last November, bringing the design more in line with the Tour, and now we have the CDMA
RIM BlackBerry Bold 9650
. In ditching the Tour name RIM has brought both GSM and CDMA variants into the same brand name, just like with the Curve and Pearl. Don't let the new name fool you into thinking this is a totally different product, however. This new Bold is simply a Tour with some new clothes on.
Included in the box you'll find:
• Li-Ion battery
• AC adapter
• microUSB data cable
• Stereo headphones
• Leather swivel pouch
• 2GB microSD card
Design:
The RIM BlackBerry Bold 9650 follows the design cues of the Tour instead of the Bold 9700, with the only noticeable difference being the optical trackpad in lieu of a trackball. In fact, if you put the two CDMA devices side-by-side and covered the trackball/pad area most users would have a hard time telling a difference between the two. Sprint's Tour had a glossy back door, whereas the Verizon variant had a much more desirable soft-touch coating around the insert. Thankfully the BlackBerry Bold 9650 has taken its nod from the Verizon version and includes soft-touch which creates a much better feel. Instead of the carbon fiber insert found on the Tour, the Bold 9650 features a ribbed pattern.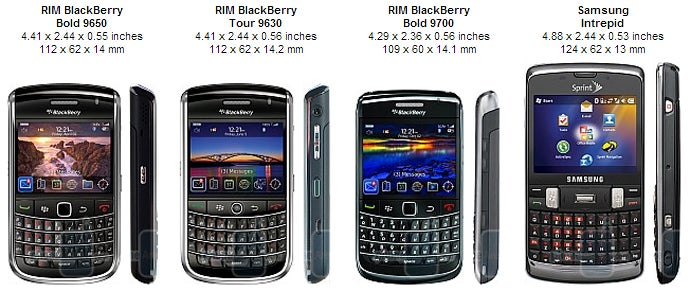 You can compare the RIM BlackBerry Bold 9650 with many other phones using our
Size Visualization Tool
.
Though not apparent just by looking at it, the screen on the Bold 9650 is actually slightly recessed. This can be a bit frustrating when swiping from the top down on the trackpad as your finger catches the lip at times, but it also allows for the device to be set on its face with less chance of scratching which is always a good thing. The button placement around the RIM BlackBerry Bold 9650 is the exact same as on the Tour, as is the camera and flash placement above the battery door.
We heavily praised the Tour's hardware in our review last summer and the same applies to the Bold 9650. We'll just hit the highlights this time around: the keypad remains the best we've ever used, the 480x360 pixels display is very good and the overall feel is just super-solid. The Bold 9650 remains a very high quality device that ranks among the best available when it comes to feel and build quality.
RIM BlackBerry Bold 9650 360 Degrees View: Recommended Stories