Verizon's new snowman ad introduces new lower $149.99 price for Motorola DROID 2
2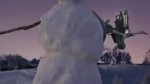 Trying to clear up inventory of the Motorola DROID 2 before the expected
launch of the Motorola DROID 2 Global and the Motorola DROID Pro
on Thursday, Verizon has recently started a new television campaign featuring a lower price on the handset. As we
reported
, Big Red has chopped the price of the DROID's sequel unit to $149.99 with a 2 year contract. Not only that, when you buy the phone, you can get any phone free of equal or lesser value. That would basically eliminate the DROID X, the DROID 2 R2-D2 Special edition and the Samsung Fascinate. While the first and last models remain priced at $199.99, the Star Wars limited edition DROID is priced at $249.99.
The new television spot is pretty mild considering what other carriers are
passing off as advertising these days
. The fine print says that the BOGO offer is for a limited time only and we can't help staring at the big number of handsets that Verizon plans on launching this coming Thursday. In other words, if you plan on taking advantage of Verizon's charity, it might be best to do your shopping soon.
source:
Verizon
Recommended Stories