New T-Mobile ad takes another shot at AT&T and Apple's relationship with the carrier
22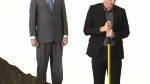 T-Mobile continues to take aim at AT&T with its latest commercial. Unlike the prior ad, this one is supposedly meant for online viewers only, although it would make a heck of a TV advertisement.
Like the previous spot, the nation's fourth largest carrier takes a shot at the Apple iPhone 4's Face Time which only works in Wi-Fi. On the other hand, T-Mobile's myTouch 4G offers video chat in both Wi-Fi and 3G.
After viewing the ad, we have to wonder what Apple CEO Steve Jobs would be thinking after the insinuation that the exclusivity deal between Apple and AT&T gives the latter the ability to push around the former. And once again, we note that T-Mobile continues to call itself "America's largest 4G network". We get the feeling that things are just starting to heat up.
source:
TmoNews
Recommended Stories