Verizon is the Android stronghold with the Motorola Droid
0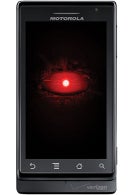 Who would have guessed that Verizon, in its eagerness to offer alternatives to the iPhone/AT&T monopoly, has climbed to the top of the Android marketshare? Chitika Research has run the numbers from their own ad network, and they paint an interesting picture of which carrier and phones are most popular with the Android crowd.
Despite the ability to run on various handsets, and be open to all carriers, the Android platform has managed to get extremely popular on one of these. It turns out that the
Motorola Droid
occupies the pockets of more than a third of Android users in the US. This is probably due to its expansive marketing campaign and the fact that Verizon has been somewhat deprived of high-end smartphones to stand ground against Apple's iPhone. When you add the
Droid Eris
and the
Droid Incredible
to the mix, the carrier quickly outspeeds the Android-powered competition to finish first with almost half of all users of the mobile OS being on its CDMA network.
The next most popular Android handsets are the
HTC Hero
with 9.9%, the
Droid Eris
(8.2%),
T-Mobile G1
(
8.1
%), and the
myTouch 3G
(6.3%). The almighty
Nexus One
holds just 2%, with the
HTC EVO 4G
already passing that just a couple of weeks after launch. T-Mobile is rated the second largest Android carrier, followed by Sprint, and the negligible 1% of the market for AT&T.
Looking ahead to June 23
- Verizon is about to launch the Droid X and the second iteration of the Motorola Droid, so the carrier's Android domination could only be strengthened further. Sprint has scored a hit with the HTC EVO 4G and its high speed data network that keeps expanding (
now covers the New York area
), so the share of the green robot in its portfolio will probably go up too. All at the expense of the Android pioneer T-Mobile, as well as AT&T (which might keep it steady with the introduction of the
HTC Aria
, but we doubt that).
Motorola Droid Specifications
|
Review
via
IntoMobile