T-Mobile G1 Review
37

Introduction:
Remember when the
iPhone
was going to revolutionize everything? It was so new, so shiny, so fast, so pretty…and so closed. Sure, it was eventually cracked, but every time there's an update it has to be re-hacked, and as of now the 3G still hasn't been solved. Apple created a wonderful piece of hardware with an extraordinary operating system, but forgot to make it consumer friendly. Ok, they didn't forget, they wanted control over everything and alienated a lot of would-be buyers in the process. Love it or hate it, there is no denying that the iPhone was an amazing feat of technology but until Apple embraces the whole developer community, not just who they want at the time, the iPhone will never reach its potential.
In steps
Google
. The company headquarters may be separated by just nine miles, but the company philosophies are light years apart. Where Apple looks to control every aspect of the business in order maximize profits, Google has embraced user generated content and makes next to nothing from the general public. They open up their doors to innovation from anywhere, and then figure out how to make it profitable later. There is no more perfect example of this than Android, the search giant's mobile operating system and a shot across the bow of the wireless industry. And the best part is that it is free. No licensing fees. No developer fees. Nothing. Anyone can download the entire source code from the website and, with a little innovation and creativity, port it to any device they like.
Of course no movement can succeed without the backing of the industry. Realizing this, Google created the Open Handset Alliance (OHA) and quickly brought on board some of the biggest names in the wireless world. Japanese operators KDDI and NTT DoCoMo signed up, along with China Mobile, Telecom Italia, Sprint and worldwide operators Telefónica and T-Mobile. Samsung, LG, Motorola and HTC represent manufacturers, and big name component companies such as Qualcomm, Intel, NVIDIA and Texas Instruments are members. Innovative software companies like eBay, Esmertec, Packet Video and Nuance help round out the who's who member list.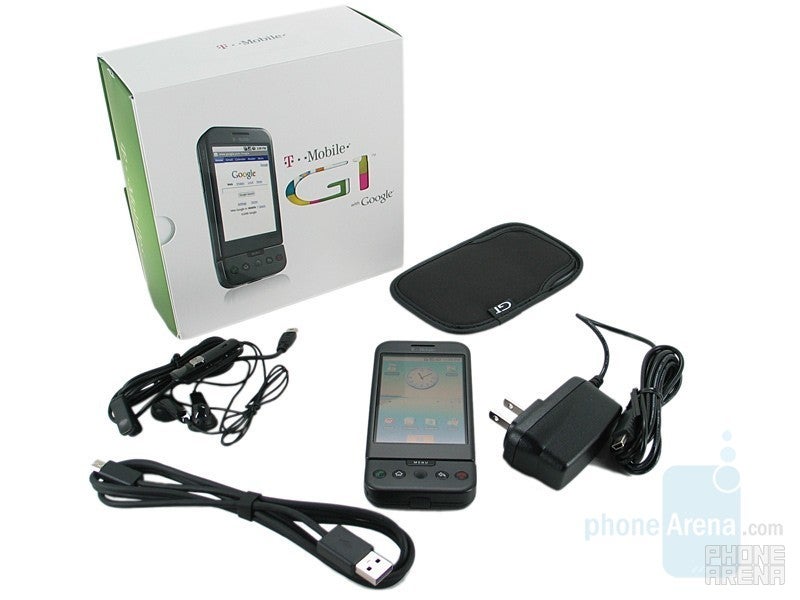 Ok, so what does this all mean? It is a forward-thinking, consumer-first vision for the future, backed by companies that can make it happen. T-Mobile USA and HTC have brought the first Dream to reality and released the
G1
. As the first device running Android it has had lots of expectations heaped on it, too many most likely. Android is not about a device, but rather a mobile computing environment and more importantly a philosophy. Still, as the launch device first impressions are critical and the G1 has a lot to live up to.
Included in the box you'll find:
• Li-Ion battery
• AC adapter
• USB data cable
• 1GB microSD card
• miniUSB stereo headset
• Leather carrying pouch
Design:
The G1 is an odd device. At first glance it has a huge
3.2" capacitive display
with a few hard buttons below and trackball navigation. The screen actually arcs open (more on that later) to reveal a large, 5-row QWERTY keyboard. The overall design is very minimalistic though, so much so that finding the microSD slot took us a bit of search (its unmarked on the bottom left, if you're wondering.) It's definitely on the large side, but it still manages to feel pretty good in the hand.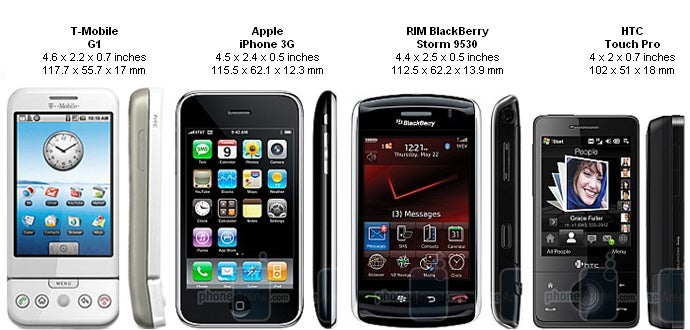 You can compare the T-Mobile G1 with many other phones using our
Size Visualization Tool
.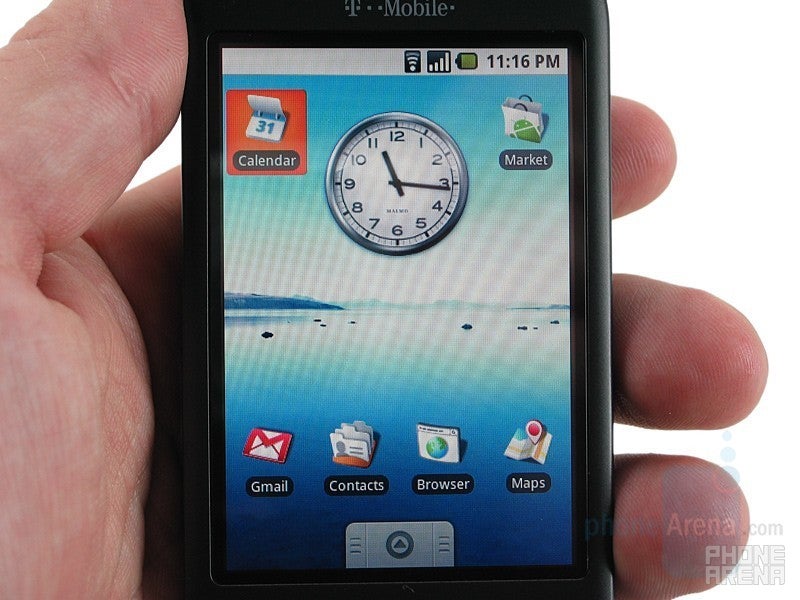 Display
The phone currently comes in two hues, black and bronze (brown,) and will be available in white later this year. The
screen
dominates the front, and the small area below is houses the navigational keys and trackball. This portion actually curves out a bit, giving the G1 a protruding
chin
. It's a small but noticeable design measure, and makes typing more comfortable. The HVGA (320x480) screen is gorgeous. It is large, easy to read and videos look great(when you can play them, again, more later). Like the iPhone it uses capacitive technology, meaning that you must use a bare finger to operate it. It is plenty responsive, though without Multi-Touch and a glass screen it doesn't feel quite as good as Apple's. Usability isn't an issue; it takes a second to get used to, but afterwards we had no problems. A quick tap doesn't always open applications, you have to hover for the slightest second, and this is most likely on purpose so as to reduce accidental screen presses.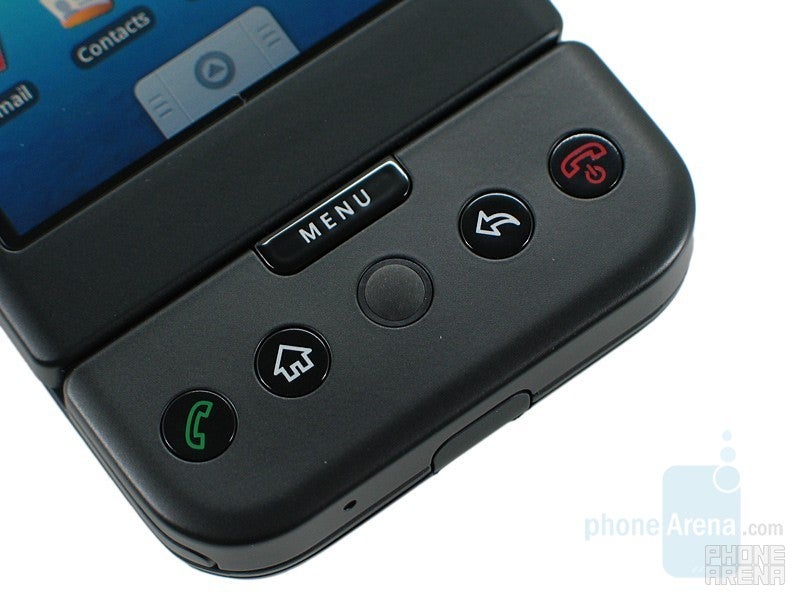 Navigation keys
In true Google fashion the navigation keys are very simplistic. The trackball sits in the middle (it has been shown to be the same one used on BlackBerry devices) with a rectangular menu button above. To each side sits two round keys; Send and Home to the left, Back and End to the right. They offer good feedback and there is no doubt when they have been pressed.
The
left side
of the phone has a slightly raised volume rocker near the top, and the aforementioned microSD slot stealthily integrated into the chin. The slot is somewhat hard to get open, and recessed enough that those with short nails may have problems getting the card in and out. The
right side
simply features a camera key just before the chin break. The miniUSB charging/data/headphone jack is covered on the bottom of the phone. The
back
offers more minimalism. The 3.2 megapixel camera is set next to the small speaker. TThe words "with Google" are screen printed in the middle; that and the T-Mobile and HTC logos are the only markings on the phone.
The screen slides to the right to reveal the large
QWERTY keyboard
. Uniquely it does not simply slide, but rather moves in an arcing motion. We're not sure if there is any advantage to this, we certainly didn't see one, but it is cool nevertheless. It is a very heavy slide, but not too much so. Animations are generally as smooth as can be, but it does take a second for the screen to re-orientate when open and closed. The delay is less than a second, and nothing like delays we see in other operating systems such as Windows Mobile.
The keyboard is very big, one of the better keyboards we've used. Keys are large and well spaced, they are a touch shallow but there is no wondering if you've pressed them or not. Unlike devices such as the
Bold
and
Touch Pro
, the G1's keys are staggered like you find on a real keyboard, making typing more natural.
We'll be honest, while there are some nice design touches such as the chin and staggered keyboard the G1's design doesn't wow us. Perhaps this is intentional, after all
Android
is about the OS not the hardware, but it seems rather pedestrian for such a highly anticipated device. That said, the design is a good one it appears HTC went with usability over wow factor. For as much as the iPhone and Diamond have pushed touchscreens into the forefront, giving up a keyboard is still not a sacrifice everyone will make. One thing we will chastise HTC for is the lack of a 3.5mm jack, though this comes as no surprise as only the Touch HD has ever had one. Another thing is that the phone is creaky. It's not loose or anything, but there are a lot of plastic on plastic creeks as we squeeze various areas. Short of this there is nothing really wrong with the G1, we just wish there was more. Some rumors have the Touch HD being loaded with Android and rebranded the G2, which we would be perfectly fine with.
Recommended Stories