WiMAX 4G access sprouting up across New York City already?
11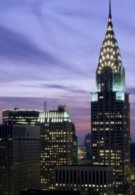 For a brief moment when Sprint had their
special event for the HTC EVO 4G a few weeks back in New York City
, they managed to bring along 4G WiMAX to an isolated portion of the city – temporarily for the event. However, there are now reports from various HTC EVO 4G owners across New York City that they've begun to see a 4G icon start to pop up on their smartphones indicating that the connection is there. Unfortunately it appears to be a tease knowing that Sprint and Clearwire are probably in the early stages of getting it up and running as actual data service is not yet available – which is made evident with the notification of "4G network is available" displayed on the handset. Naturally there are plenty of owners who will be happy to know that they can soon be taking advantage of that extra $10 per month premium data charge they're paying for right now. Finally, there are some additional reports saying that the same thing is starting to happen in Los Angles and San Francisco.
HTC EVO 4G Specifications
|
Review
source:
Engadget